Readers, it's October 1, which means that it's
already
time for LFK's onslaught of spooky/freaky events leading up to Halloween.
One of the biggest of those events is this Thursday, Oct. 4, as the Lawrence Zombie Walk clogs the streets (it was 850 strong last year, if you believe the stats) with brain-munching ghouls of all shapes and sizes...but mostly of the annoying high-school size. But don't let the youngsters scare you away, scenesters: just push them out of the way and do your zombie-thing.
Check out the Lawrence Zombie Walk blog over
here
for important statements such as this:
"...the Zombie Walk is crowded and confusing."
Chip: "I couldn't have said it better myself. Once I saw two drunken zombies screwing in the alley behind the Replay. It was more erotic than it sounds. But not by much."
Visit the FB event page
here
. And don't forget to stop by the LPL's "zombie clinic" on Thursday afternoon if you need help getting zombie-fied or need "tutorials on how to zombie shuffle." Details
here
---
Over at at our friend Nick's
Rock Star Journalist
blog, catch his Halloween marathon series of kick-ass horror reviews which starts today with the recent, very-meta,
Cabin in the Woods.
We hear he's tackling the severely under-seen gem
Chopping Mall
this month, a delightfully bonkers film about killer security robots which made a recent appearance at Horror Remix on a night we (ignorantly) skipped.
Wonder Fair's 100 Ghost Stories event kicked off on Final Friday, and of course we stopped by to wind our way down a dark hallway lined with tombstones featuring funny epitaphs to find ourselves at a bar mixing Ectoplasm drinks, located inside a Haunted Video Store, which looked like this: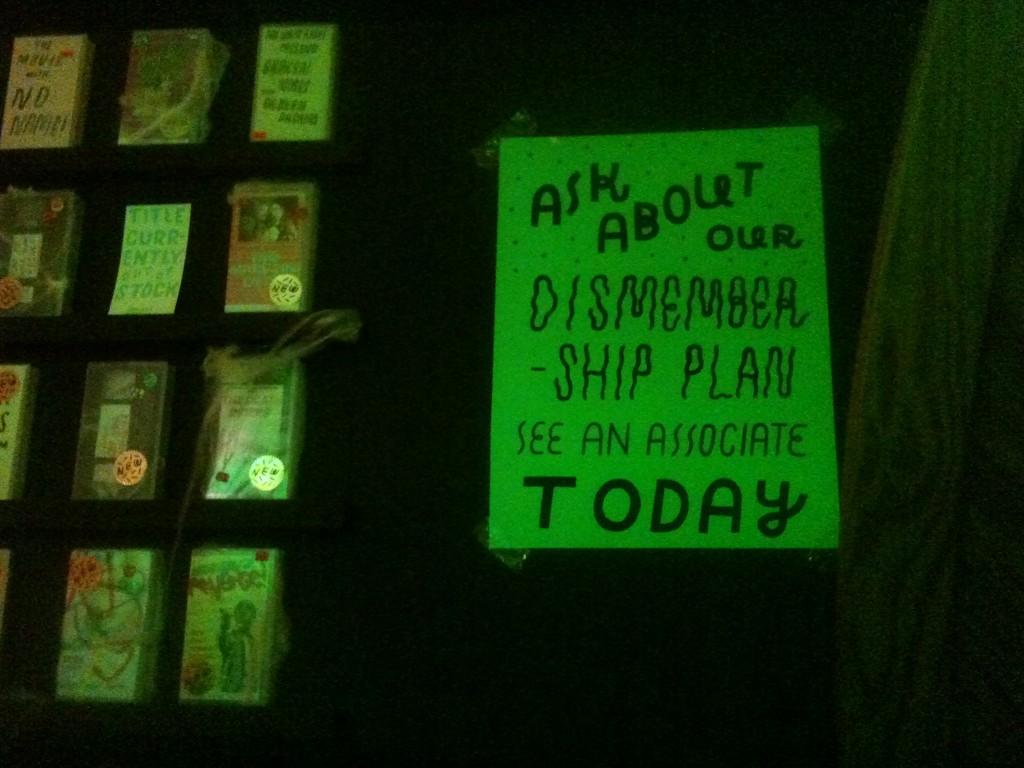 Their next major event of the month is a ghost story reading in the Wonder Fair gallery on Oct. 4, followed later in the month (Oct 18) by a screening of
Ghoul School
and
The Burbs
at Liberty Hall. Get some Ghoul School info over
here
. We're sold on the tagline alone:
"This Summer. Get Flunked. Straight to Hell!"
---
And Liberty Hall is also planning a terrific Halloween event for early in the evening (before you hit the Replay). Check it out:
What else is spooky this month?