Lawrence served up a feast of cultural opportunities this weekend and we tried to sample a few portions of each. Here are some thoughts.
Free State Festival:
This year's Free State Fest, centered around the Lawrence Arts Center, expanded from a film fest into a full-force community event combining film, music, art, and panel discussions, and it was unquestionably a hit. It seems likely, in fact, to become the cornerstone event of the summer--something that will increasingly draw tourists from well beyond the borders of LFK--if the Lawrence Arts Center can afford to keep it going strong. Judging from all the grant money rolling in lately, this shouldn't be a problem. This is one of those events where the old cliche "something for everyone" pretty much holds true, with events ranging from family-friendly buskers to free outdoor concerts (2000 people on hand for Mr. Johnny Winter) to late-night scenester "happenings" (such as Husker Du icon Grant Hart backed up by some of LFK's finest). If we had to level a critique, it seems to us that the film portion itself could stand to be a little more buzzworthy. Imagine, as one example, if they had somehow scored an early screening of Richard Linklater's
Boyhood
this summer, with the man himself on hand to discuss. But judging from the near-capacity crowds at the two film events we attended, most people were perfectly pleased with the offerings. Good job, LAC and Free State Fest!
Here is a busking mime (not necessarily an official part of the Free State Fest, but this is the kind of event that everyone can latch onto!).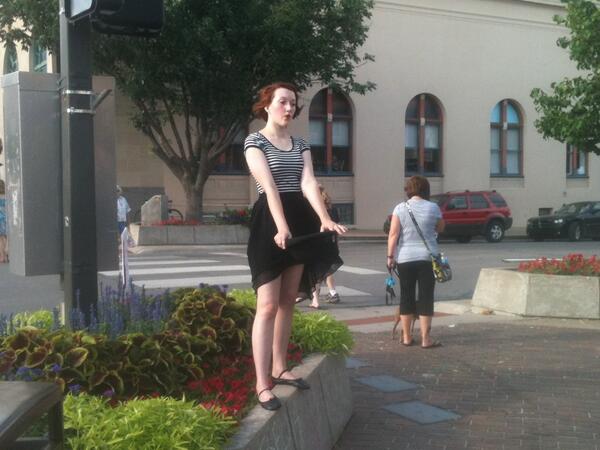 Lawrence Field Day Fest:
In past years, we had two minor criticisms of Lawrence Field Day Fest: it was all held in a single venue and it wasn't diverse enough for our taste, tending mostly toward garage rock and punk. With year three, these concerns were non-existent: the Fest branched out of the Bottleneck to the (impressively renovated) Jackpot, added a free evening of shows at Wonder Fair and Love Garden, and opened up the billing to some more eclectic fare, from the singer-songwritery goodness of Danny Pound (who read a high-school poem he wrote called "Don't Let Disco Die") to the hip-hop stylings of Ebony Tusks (we heard, from Marty, that this show was epic!) to the bad-ass blues of Katy Guillen and the Girls (a band we sincerely regret missing after hearing Josh Berwanger rave to us about them). We were on hand for much of Saturday's line-up, arriving early to witness the resurrection of Pale Hearts, with Rob in fine screaming voice, besuited and showcasing his best dance moves, channeling some LFK demons for what he claimed was one last hurrah (or is it?) before moving to KC. From there we stopped by the Jackpot in time to catch the end of a raucous Quivers set and the beginning of a sizzling Philistines set before heading back to Bottleneck to catch Berwanger, in classic Berwanger-style, blazing through 30 minutes of arena-ready rock, complete with a fog machine. Mr. Cameron Hawk deserves applause for curating this thing and keeping it running like a well-oiled machine, with all the bands we saw starting right at their appointed set times, perhaps the rarest miracle of all in the world of rock and roll.
Final Friday:
Did folks make their way off the streets and into the galleries for Final Friday? We only stopped at two places (Phoenix Gallery--upstairs and down--and Wonder Fair) but they both seemed to be hopping.
Chip is trying to save some cash and purchase a piece that he calls "Naked Woman With Cat," which is part of Wonder Fair's terrific YWA (Young Woman Artists) show. Make sure to stop by and check it out.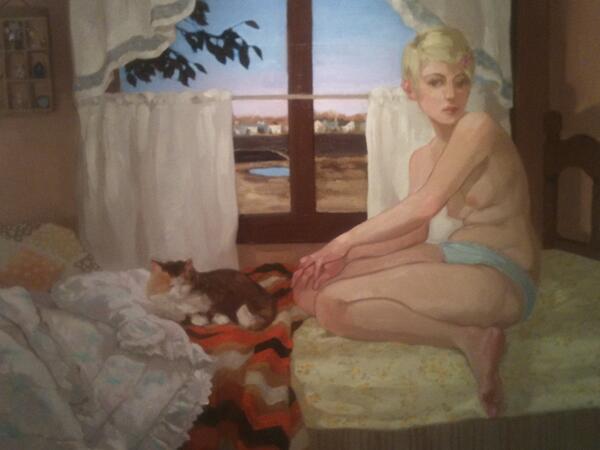 Tour of Lawrence:
The bikes are fast. The bikes are kind of fun to watch (for about 15 minutes). The bikes are COMPLETELY blocking off 9th Street right next to your home! The bikes are almost running you down as you try to cross Mass on Sunday. It is way too fucking humid outside to enjoy the bikes.