The World Cup kicks off (get it??) today. Where are you watching in LFK? Red Lyon or Dempsey's? We stopped by the 9th Street Cork and Barrel to salute this soccer player built of Budweiser: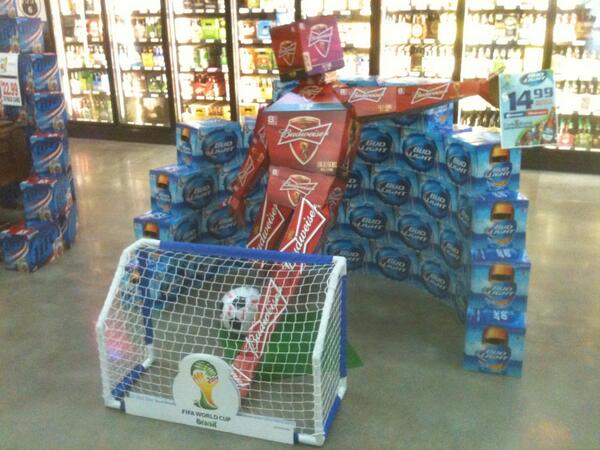 USA! USA!
---
Who needs shitty old Kanrocksas when KC has a major new festival called Boulevardia which begins tomorow. Explore the website
here
for a full schedule of bands and food and beer. Really, it's all about the beer. The festival calls itself "our own country within a country," whatever that means.
But what's happening right here in LFK.
We're pretty sure the great This is My Condition is playing at the Taproom tonight (Thursday). But you have to reach them by carrier pigeon, and the event isn't listed on Tap's website or FB either. But you'll be cool if you go and it's actually happening. It's possible that Folkicide is also on the bill, and a band from Seattle and a band from Wichita.
There's another Comedy Freakout at Frank's on Friday. The FB event page is
here
. Are scenesters complaining that there's too much comedy in town these days getting in the way of their rock and roll shows?
Or spend a spooky Friday the 13th evening with these ladies down at Replay:
And the mandatory scenester show of the weekend is The Hips and Ghosty at Replay on Saturday. You'd think there would be flyers or something for The Hips' triumphant return, but we can't find anything. Besides, you know who they are and you remember what they look like and you'll be at the Replay on Saturday night anyway. See you there.