We spent all of the past Independence Day waiting in vain at the Replay, hoping that hometown heroes Fourth of July might return from California to play their annual show. Alas, our vigil was as fruitless as Linus waiting in the pumpkin patch for the Great Pumpkin. But we'll settle for this weekend's Saturday solo return of Brendan Hangaeur, whose new project Empty Moon plays the Replay on Saturday along with The Hips and 1,000,000 light years.
You can stream the new album via Soundcloud
here.
Empty Moon plays a KC show on Friday, which you should also attend. Here are both flyers:
And don't forget the weekend's other big homecoming as Mark Mangino makes his return to Memorial Stadium as he and Iowa State return to give KU their weekly football beatdown.
Chip: "Can we keep him?"
This photo of an LFK yard sign has been making the rounds on Twitter during Election season.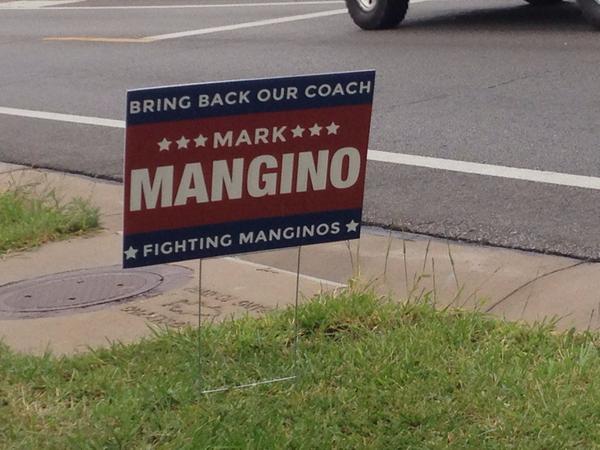 There's comedy at the Replay tonight, of course (though we can't find a flyer listing the performers and the Replay didn't bother to put tonight's event on their main calendar). And there's an even bigger comedy show at the Replay on Friday (also 6-9) with Denver comics Sam Tallent and Byron Graham. FB event page
here
.
Friday brings another I Heart Local Music showcase (and birthday party!) at the Replay. This should be a wild one:
And Card Table's
Edward Gant's Amazing Feats of Loneliness
enters its third and final weekend at the LAC. We caught it last weekend and found it well-acted, beautifully-designed, and stocked full of the experimental/meta hijinks we're coming to expect from recent Card Table productions (though still with enough crude humor to please the old fans who'd rather see sketch comedy and maintaining an episodic structure befitting the short attention spans of PBR-swilling scenester theatergoers). In a lovely moment near the end, Will Averill's Edward Gant, our master of ceremonies, roams the audience and intones: "
In a world where death is at our shoulder every hour, even the smallest act of creativity is a marvelous, courageous thing."
So go support them, LFK! And for maximum mind-fuckery, go see this on a double-bill with Inarritu's new film
Birdman.
As much as we dig the meta, though, we left the theater thinking that the MOST radical thing Card Table could do right now would be to go traditional on our asses with a straightforward, character-driven narrative that ditches the ironic distancing and allows for real emotional connection (maybe something that does this in a playful way...like Sarah Ruhl's
The Clean House
?). OR, we'd like to see them try something truly fucking weird, like staging O'Neill's legendary tale of failed lives and "pipe dreams,"
The Iceman Cometh
, as a site-specific production at the Replay with the actors actually sitting at the bar.
The Jackpot is still a place that exists, believe it or not. We recently watched some folks play whiskey jugs and donkey jawbones in there for an audience of four. Hopefully a few more show up to see our pals Sona play on Friday.
And make sure to end your weekend with a great community event at Frank's North Star: a fundraiser for Frank's brother who was recently seriously injured in an accident in Austin. Bands, a silent auction, and raffles start at 7:00 pm. Details
here
.
No doubt we're leaving stuff out as usual and feel free to yell at us but do remember: we don't get paid for this shit!!