The weekend approaches and here are some options.
SuicideGirls bring their "Blackheart Burlesque" to the Granada tonight. The show is billed (oddly) as starting at 10:15. Why couldn't they have asked LFK's Foxy by Proxy to open for them?
Strange things are afoot out at SeedCo tonight. Check out a storyteller reading "Tristan and Iseult" and get a feel for LFK's alt-theatre scene (it's surely a nice break from
Footloose
and
Shrek
out at Theatre Lawrence).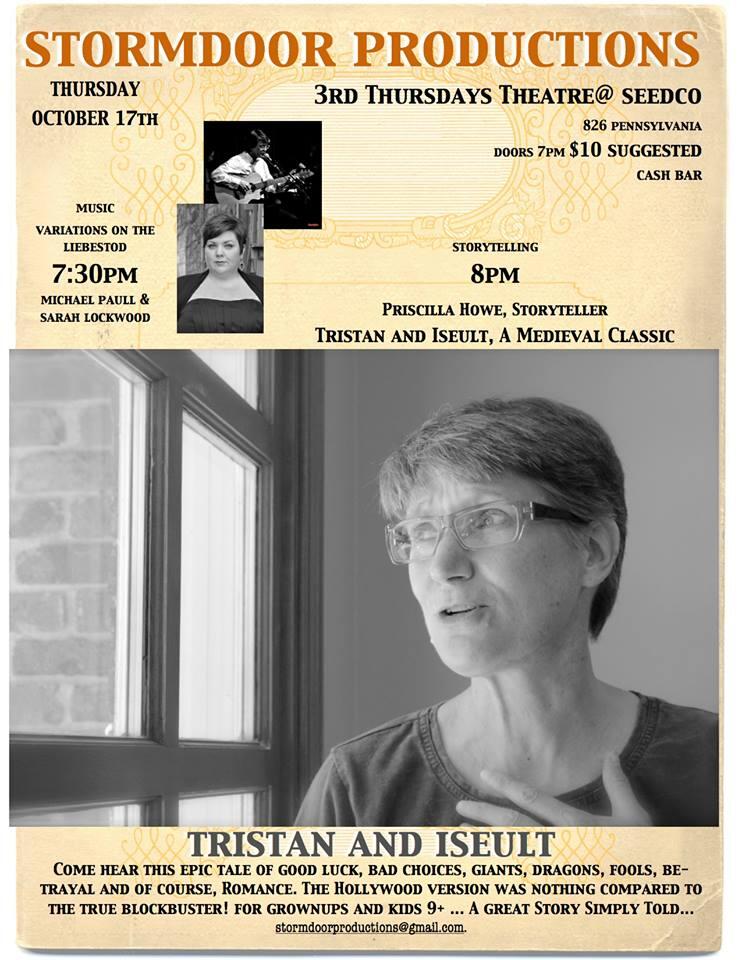 For the Friday matinee at the Replay, this is happening:
"Denver-based singer-songwriter Al Trout has worn a number of different hats over the course of his colorful music career. He's been a sinister rock-a-billy crooner, a frenzied jugband jazzbo, a bawdy blues busker, and a spooky western balladeer of epic proportions. On his current endeavor, he dumps his entire musical past into one pot, letting all the flavors mingle, and then serves it up lone-wolf-style as a bona fide one-man-band. Armed with an electrified-resonator guitar, a unique foot-powered drum kit, and a sonorous baritone, Al Trout belts out his own authentic brand of mongrel Americana with vigor and aplomb."
(bio via
ReverbNation
and hear a few tunes there as well)
Beloved fiddler Betse Ellis (of Wilders' fame) opens the show.
Stick around late and Yuppies will take the stage. Don't worry: they're probably not real "yuppies" which, as we know, are not allowed at the Replay. Psychic Heat opens up, in what will surely be their 11th performance of the week. If any act is more omnipresent in LFK right now, who would it be? (besides Tyler Gregory).
---
Perhaps you were among the thousands who got turned away at Late Night? Or perhaps you got trampled by the fratties and spent the evening at the emergency room? Well, you can start off your Saturday morning with another free KU basketball scrimmage, which is being held (it seems) not to make up for the clusterfuck of Late Night but because Coach Self was so severely disappointed in the performance of what everyone seems to believe is destined to be the greatest team of all time. Scrimmage starts at 9:45 am. Doors open at 9:00. We don't expect bad behavior this time because most of the students will still be sleeping off Friday's drunk. (oh, and there's a football game later that afternoon, if anyone cares?).
---
Follow up the scrimmage with a "vintage motorcycle ride-in" at Frank's in No Law at noon because...why not? Details here via
Craigslist
. Wouldn't Slow Ride be the most obvious choice for this event?
---
Country legend Billy Joe Shaver graces LFK on Saturday. He tends to stop at Knuckleheads in KC when he's in the area, so this is a good chance for "old five and dimers" (like us!) to check him out...if you catch our reference...and you probably don't, you young pups! The Granada has actually become quite the hub for country shows of late, though most of them are of the "red-dirt" variety and not really our thing. But we'll be on hand for this one, loudly and drunkenly singing along with "Ol' Chunk of Coal."
If a shitkicking good time at the Granada isn't your thing, scenester nostalgia is in full effect at the Bottleneck as Built To Spill hits town again. Keep it like a secret, if you catch our reference...and we know you do!