It's so weird when things live up to their hype. But
Gravity
managed to do just that. So...there's now a newly-minted masterpiece playing just down the street from your house. You can pay your 3D money and witness it for yourselves. Please do.
Chip: "It must be so cool to just float around space in your underwear."
The big multiplex (Oscar-bait) movie this weekend is Paul Greengrass's
Captain Phillips
(or, as we call it, Tom Hanks: Pirate Fighter). It's going to be damn jarring to go from Cuaron's graceful 13 minute tracking shots in
Gravity
to Greengrass's herky-jerky handheld quick cuts, but we'll give it a shot. By most accounts, it's one of Hanks' best performances yet. Even better than his work in
Joe vs. the Volcano
?
Mr. Weird Al Yankovic hits LFK next Monday, and Liberty Hall heralds his arrival with a 7:00 Sunday screening of UHF that also includes
"all sorts of surprises, a great pre-show, contests, and prizes (including tickets to the show)!"
We assume these surprises will involve Mick Cottin in a Weird Al wig at some point. More details via Liberty Hall
here
.
If nature films are your thing, Liberty also has the Wild and Scenic Film Festival on Friday. It's a benefit for Friends of the Kaw, who seem to be having all sorts of benefits lately (we recently attended one that involved eating a bunch of catfish from Terrebone). Details on the films
here
.
On the KC indie circuit,
Blue Caprice
hits town (at Glenwood Arts and possibly elsewhere). It's a film about the DC snipers. Supposedly it's been OnDemand for awhile but we've been unable to find it via LFK's ever-disappointing WOW! cable (no big surprise...they still haven't bothered to add the FXX channel after it's been around a few months).
The Tivoli opens
Escape From Tomorrow
, which sounds like a fascinating piece of guerrilla filmmaking shot on the fly at Disney World.
Indiewire calls it:
"A daring attempt to literally assail Disney World from the inside out. Conveys a phantasmagorical nightmare on par with something Terry Gilliam might have dreamt up in his 'Brazil' days."
Visit the film's website
here
.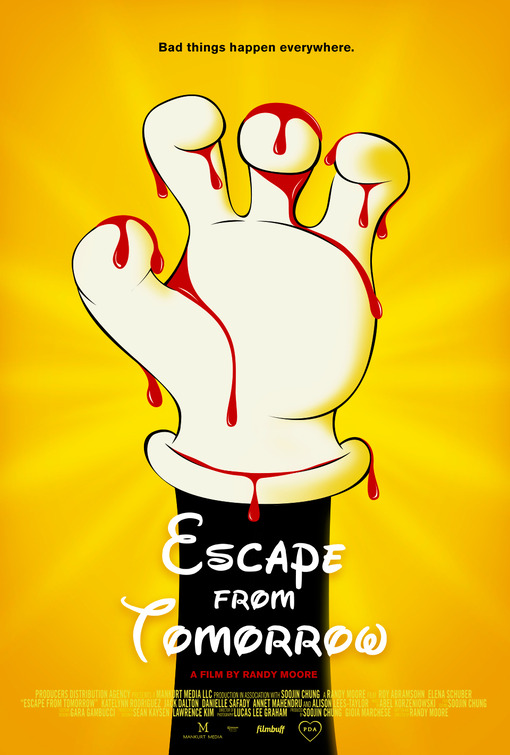 And over at the Alamo Drafthouse KC you've got plenty of retro horror options as we head toward Halloween (almost all of them certainly better than whatever Halloween cash-grabs the multiplex will dish out over the next few weeks).
This weekend alone you could see
Hellraiser
and
Nightmare on Elm Street
. But the most fun on the big screen with a room full of rowdy gorehounds would surely be Peter Jackson's
Dead Alive
. We occasionally get nostalgic for the days when Jackson made nasty little flicks like this and
Meet the Feebles
, long before the apparently never-ending
Lord of the Rings
series which now have subtitles like
The Desolation of Smaug
, for fuck's sake!
Dead Alive
screens at 7:00 on Sunday. Find more info via the Alamo site
here
, including this description:
Zombie babies will rip out of heads, guts will slop over every square inch of the screen, giant animatronic mothers will bleed at five gallons per second and a kung fu fighting priest WILL kick ass for the lord.