KC's Quixotic arial/dance troupe has become quite a big deal these days, and their Lied Center appearance tonight has received plenty of buzz from all the local media pundits already. We're pleased to say that we've been fans since at least July 25, 2010, when we first posted the following pic of Quixotic's Megan Stockman (and based on our blog stats, this pic is still quite popular among readers).
Chip: "A word that's not used often enough in describing a Quixotic performance is...'erotic.' "
Get the full scoop via the Lied
here
. And why did this event have to be scheduled on the night of the first official basketball game? Some of us like both hoops AND aerial acrobatics!!
---
Follow up your basketball or Quixotic-watching with a rollicking evening at the Replay featuring Up the Academy and the Sluts, which (we've heard) also doubles as a birthday party for one of LFK"s most beloved rock journalists. Happy birthday to her!
You can reread our Up the Academy interview
here
and we hope to interview The Sluts one of these days as well (Chip: "I LOVE interviewing sluts.").
This remains our favorite Up the Academy photo (via
L.com ):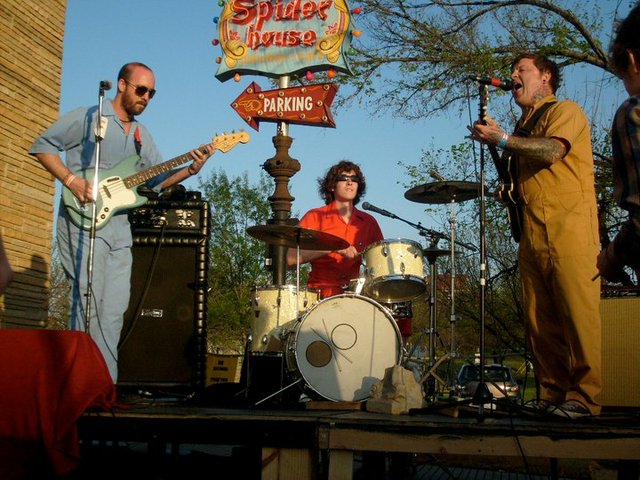 ---
Local bluegrass ladies MAW will take the stage at the Replay for a rare Saturday matinee. It's supposed to be in the upper 70's tomorrow, folks. God bless global warming if it allows Replay patio shows to continue this late in the season!
Here's MAW's awesome Russ Meyer-inspired poster for last night's gig in Manhattan:
And don't forget Sunday's "Little Stomp" fundraiser for LFK's Little Red Schoolhouse. It's happening at Barnyard Beer and we previewed it yesterday (check out our preview
here
and the FB event page
here
, where you'll discover that 86 of your most passionate friends are definitely attending).