Our friends at the Bottleneck, partnering up with Free State Brewing, have proved on at least two recent occasions (first with Junior Brown and last night with James McMurtry and The Gourds) that it is possible to pack a bar wall-to-wall at 8:00 in the evening with a demographic that ranges from 20-somethings to 60-somethings.
This was probably our first Gourds show in over a decade, but they took to the stage in fine, rowdy form, much as we remembered them, with lightning-fast mandolin and banjo and a dose of accordion, singing the praises of "fried pork skins" and entertaining the crowd with dance moves the likes of which you've probably never seen unless you have family in the Ozarks or Appachalians. Kevin "Shinyribs" Russell plays the mandolin with an odd, bemused expression, as if even he is surprised by the awesome sounds it's making. Here he is testifying: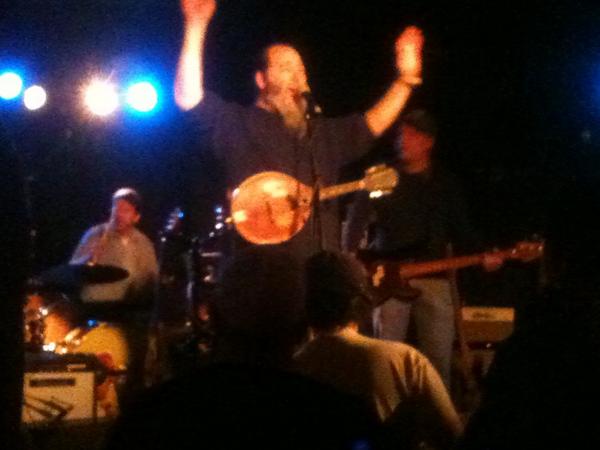 And, yes, the Gourds closed with their hit cover of "Gin and Juice."
Richard: "In some ways, it always makes me a little sad when bands are forever-obligated to play the big hit long after its cultural expiration-date and even though it's not at all representative of the band at its best."
Chip: "If they had NOT played it, I would have demanded a refund from the Bottleneck."
It's not easy to follow the frenzy of a Gourds show, and we were initially a little worried that the laconic, slightly gruff demeanor of James McMurtry might dampen the energy or thin the masses. It didn't. If you can write a song as good as "Red Dress" or "Choctaw Bingo," coupled with a driving, roots-rock groove, you can hold court damn near as long as you want, and McMurtry played a nearly two-hour set.
Also, Chip has nominated these lyrics from "Choctaw Bingo" as possibly his favorites of all-time:
"Ruth Ann and Lynn they wear them cut off britches
and those skinny little halters
And they're second cousins to me
Man I don't care I want to get between 'em
With a great big ol' hard on like a old Bois D' Arc fence post
You could hang a pipe rail gate from
Do some sister twisters 'til the cows come home
And we'd be havin' us a time."
The crowd at the Bottleneck had themselves a time, indeed.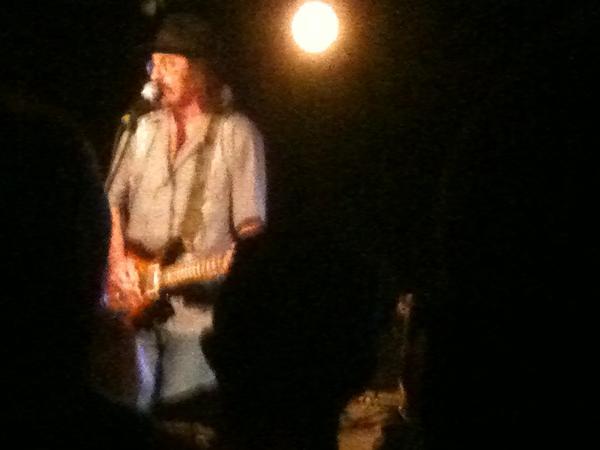 ---
If you're a local hippie who's all bummed out that you don't live in Colorado where weed is legal now, celebrate with a stoner-friendly event at Liberty Hall tonight, where two films about snowboarding will be shown for $5, proceeds going to Lawrence Humane Shelter. Films start at 7:30. Visit the FB event page
here
for full info on the two films,
Resonance
and
Open Space
.
We asked none other than BARRR to give us a run-down on this event (was he stoned when he wrote this?):
BARRR:
"THE 1ST F1LM 1S ABOUT A DUDE W!TH ep1lepsy. Snowboard1ng cured h1m of !t!!!!
WHAT??????!!!!!! LOCAL fr1end and rad photographer Dalton Paley made 1t.
The 2nd f1lm !s made by tr1ed and true stoners. They shot 1t, d1d 1t, and ed1ted 1t under the 1nfluence. So they say you should be under the 1nfluence wh1le watchng 1t. Not hard for Lawrence...last t1me ! checked.
BARRR w!ll be there. Come brew down w1th me and br1ng me a weed brown1e. OK?!
THiS iS BARRR APPROVED! DO iT!"
---
Many of you have attended benefit shows for LFK's Lawrence Community Nursery School (AKA "Little Red Schoolhouse") in the past, quite likely on the Replay patio. But this year's event is taking place at Barnyard Beer this Sunday, November 11, from 3:00-11:00 with a big line-up of local pickers and grinners and rockers and assorted hippies (go ahead and ask them their thoughts on Colorado's legalization of marijuana. Hint: they find it "groovy!"). It's $10 for adults and free for the kiddos. And barbecue will be served. Check out the FB event page
here
. Our Barnyard buddies are always raving about Kasey Rausch and she plays early (at 3:00) so be punctual, damn it. Check out some of Kasey's tunes
here
.
Kasey Rausch: