Most of LFK's recent crimes are no laughing matter. Six homicides since last July? Numerous stabbings? Knock it off, why don't you?
But this multi-part summer series takes a look at the weirder, less violent, non-deadly side of LFK's criminal underbelly, from inept robbers stealing strange things to enraged citizens wielding unexpected weapons to vandals and drunken bros and, yes, even the bad behavior of KU athletes.
Thanks to all of our Twitter friends who helped out with tips and links. Keep them coming
@larryvillelife
through the summer.
Our journey begins high atop Larryville...
Surely the greatest unsolved (?) case of vandalism in recent years is the 2010 defacement of the brand new Oread Hotel as an intrepid graffiti artist (or artists) painted "SHOUT PEACE" on the difficult-to-access ninth-floor terrace. Full story via LJ-World
here
. This sort of initiative hasn't been seen again in the world of LFK vandalism. Are the culprits perhaps biding their time and plotting another daring plan? Well, the Compton building at 9th and NH will be opening soon enough (hint, hint).
Great
photo
via Richard Gwin.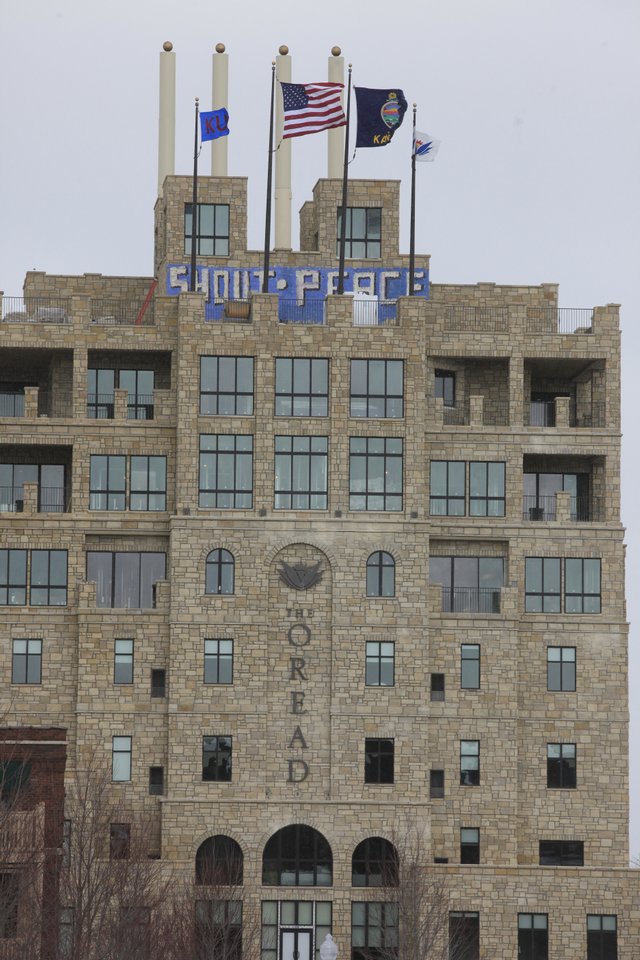 It's hard to pronounce the name of one of LFK's most notable ceiling-crawling burglars:
Suwamet Hanratanagorn. After an hour-long search earlier this year in the ceilings of the 23rd Street Dillon's, Suwamet was finally brought to justice after stealing prescription drugs from the pharmacy and damaging the ceiling. Was this the same man who had successfully escaped two previous ceiling incidents there? We're guessing so. Full story via LJ-World
here
.
Easier to pronounce (and impossible to forget) is our next ceiling-crawler, Jimboy, who was coaxed out of the ceiling at Muncher's Bakery in November of 2013. It's a mysterious tale, with Jimboy claiming that he became locked in the bathroom and climbed in the ceiling to escape, a claim made problematic by the fact that the bathrooms (apparently) have no locks. Our theory is that he was planning a major,
Mission Impossible
-style donut heist, perhaps lowering himself on strings from the ceiling into the shop (a scheme that would have been complicated by the fact that Muncher's is open 24 hours a day). Read the LJ-World crime report
here
. Jimboy has since been immortalized in story and song by local troubadour Will Averill, seen here performing "The Wreck of the Anthony Jimboy" at Frank's (
photo
via Jason Badgett):
the tune at Frank's: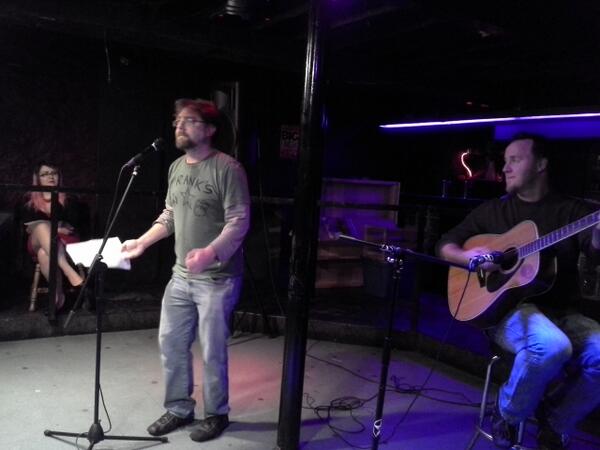 As far as we know, swords haven't played a role in the recent spate of stabbings in LFK, but they've certainly appeared in memorable crime stories over the years.
Let's begin in the courtroom, with this unforgettable line from a 2005 LJ-World
piece
:
"State's exhibit No. 1 sat on a table at the front of the courtroom: a set of two swords in sheaths, one sheath marked with the word 'Jesus' and the other marked with the word 'Christ.' "
Why were "Jesus" and "Christ" having their day in court? Their owner had threatened officers with his trusty "saviors" the year before, damn near getting himself shot in the process:
"An eyewitness described seeing Riley crouch and wave the swords as the officers stood about six feet in front of him with their guns drawn, shouting for him to drop the weapons."
Swords made the news again last year in the strange theft of
"a medium-length Japanese-style sword, a blind black cat and [a pair of] Chinese meditation balls."
The burglar wisely employed the sword on his next stop:
"the man terrified the residents of a nearby mobile home by barging in through their front door. He had no shoes or shirt on, but he was wearing the stolen sword on his waist in a scabbard, and was carrying the meditation balls and the cat."
Full report via LJ-World
here
.
We'd love to see an artist's rendering of this crime!
Coming soon to "True Crime in LFK": a foot in a bucket and a cue ball in a Crown Royal bag.