As we point out every year, scenesters hate the Sidewalk Sale because sweaty, average people fill the streets and make it hard to get to the Pig in a timely fashion. But it's one of LFK's biggest traditions and it's going strong as we speak. Head down there, score some moderate bargains, and try not to die from heatstroke.
Here's a nice photo from the LJ-World of two Jefferson's employees, though the shade makes it impossible for Chip to identify them. Visit a gallery of Sidewalk Sale photos at the LJ-World over
here
and tweet about your purchases all day at the #swsale hashtag.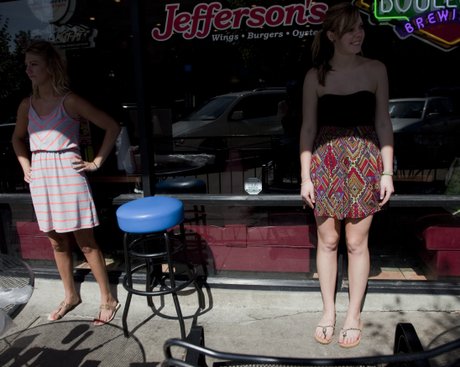 As for us, we enjoyed a quick visit to Liberty Hall's DVD sale (complete with a Maggie-conversation about who is the best Coens' cinematographer: Sonnenfeld or Deakins?). And then we scampered home to the air-conditioning with our purchases.
---
Friday night brings Tulsa's The Dull Drums to the Replay. They describe their style as "loud and reverberous." To prepare, head over to
Bandcamp
and dig on a song called "Trashvertising." That shit is totally "reverberous!"
Also on the bill is Treemotel, who have an album called
Swilling Chit and the Eidetic Trill.
(Chip: "I had to look up three words of that title!"), and a new album called
Tabloid Girl's Future Feature Film Debut in Space.
Check them out
here
.
Here's the creepy, Lynchian cover image of that latter album:
And LFK's own Up the Academy rounds out the triple-bill. (Re)read our Up the Academy interview over
here
(it remains one of our all-time most popular, though that may be partly because it has a lovely picture of #KUboobs in it).
In case you're unfamiliar, Up the Academy look like this (photo snagged from their FB
page
):
---
And who's on the bill at the Jackpot this weekend? According to their calendar, no one. This doesn't seem like a promising business plan but, then again, it's really too fucking hot to leave the house anyway.