Readers, the heat wave has finally broken in LFK and we're looking forward to patrolling the streets again without (as much) fear of a heat stroke. Aside from the big and buzzy Beach House show tomorrow night at Liberty (which we previewed yesterday), it looks like a pretty slow start to the week aside from some movie events.
Tonight brings the second installment of Monday Night Movie at Frank's (
Troll 2
was magnificent last week: no one would dare piss on Frank's hospitality, if you catch our Troll 2 reference!). We're less excited about tonight's event however. Our main issue with
Killer Klowns from Outer Space
is that, as a horror spoof, it knows it's a bad movie (hey, look at me! I'm a bad movie that wants to be a cult classic!). In our opinion, the best bad movies (like
Troll 2
, and Wiseau's recent
The Room
) honestly believe they are good movies. Also, Chip is fucking terrified of clowns (especially ones spelled incorrectly with a "K"). But we do like the cheeky
Alien
reference in its tagline ("In space no one can eat ice cream.").
Tomorrow's Replay Horror Picture Show kicks off with a summer classic set on Amity Island! Man, what we wouldn't give to see the newly minted print of
Jaws
that's screening in a few cities right now (probably not KC and certainly not LFK). The Replay's screening will not look "newly minted" but there's free popcorn and it's a lot cheaper than the Beach House show and you might get to hear a patio full of drunk scenesters all yell "We're going to need a bigger boat!" simultaneously, which would be pretty cool.
The second feature on the bill (accompanied by a DJ set and dance party) is intriguing: 1961's
Blood Lust
, about a crazed hunter killing humans for sport on an island. We haven't seen it, but it appears to be a rip-off of
The Most Dangerous Game
and a precursor to stuff like
The Hunger Games
(we're guessing it's ten times more awesome than
The Hunger Games
and nowhere near as awesome as
Battle Royale
).
Chip: "I look forward to grinding during this film."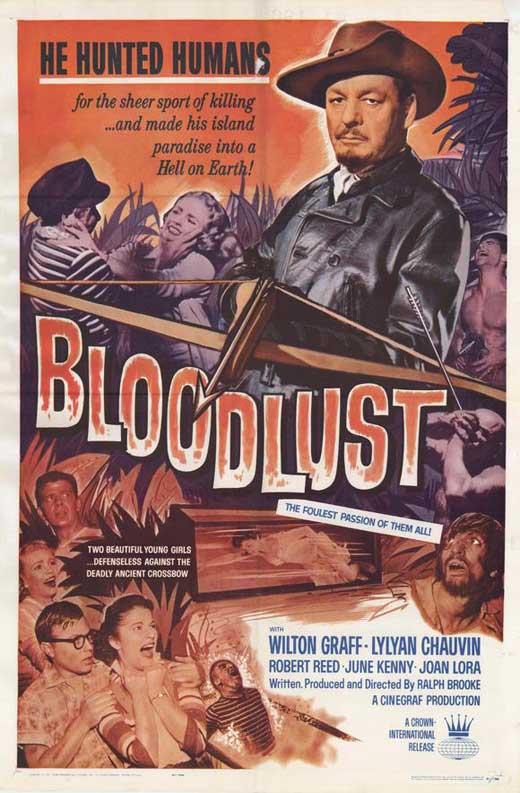 See you at the movies!
---
And here's a
photo
of Bill Self running with his tongue out during last night's celebrity softball game in KC (one of the many lead-up events to tomorrow's All Star game). Self hit a homer and got booed by Missouri fans during the pre-game introductions, leading to this great quote in the
LJ-World
today:
"I always kind of thought Mizzou people liked me for some reason. I guess I was off base on that a little bit."
We tried hard to find a photo of Self drinking martinis with Jon Hamm (another participant), but no such luck.