Nobody brings you more unknown bands than Jackpot Saloon, but this weekend they're mixing it up with a buzzy show by
Joyce Manor
tonight and a stellar quadruple-bill on Friday (you've certainly heard of at least three of the bands). We asked Alex from The Noise FM to send us a preview of the show and discuss the Noise Boys' plans for their big homecoming weekend in LFK. Enjoy.
Jackpot Music Hall
The Sluts, The Noise FM, Westerners, Chambers
Ages 18+
$3-5
"We're back home in Lawrence at Jackpot this

Friday, September 5

with The Sluts, Westerners and Chambers for the one year anniversary of our record Attraction. We'll see if Jackpot's gotten around to rebuilding the stage after our last show when our homemade stage lights, duct-taped together from Home Depot industrial work lamps and coated in flammable spray paint from a Dollar General Store clearance aisle, nearly engulfed Austin's drum set in a chemical fire. Despite the stench of singed hair, it was a hell of a light show.
It's nice to have some distance between the release of the last record. It means we can focus less on trying to cram all of the tunes from Attraction into our setlist and more on incorporating some of our (equally brilliant) older material and fan favorites. Much like how Pearl Jam's back-catalogue of over 180 songs means they never play the same set twice, our vast collection of 19 songs (3 of which are Rod Stewart covers) means fans are in for a night of only the choicest audio nuggets.
If anyone feels like meeting up before the show, we'll probably get to town early to grab a bite to eat at one of our favorite old haunts. We've been craving the El Jefe burrito from Esquina, but if we've got enough time we'll swing by Joe Schmo's for the burger basket and a round of bocce ball."
Here's a great poster via
@lemonaidlass
.
And take a look at the video of Noise FM's ice-bucket challenge below. Is it the sexiest ice-bucket challenge so far?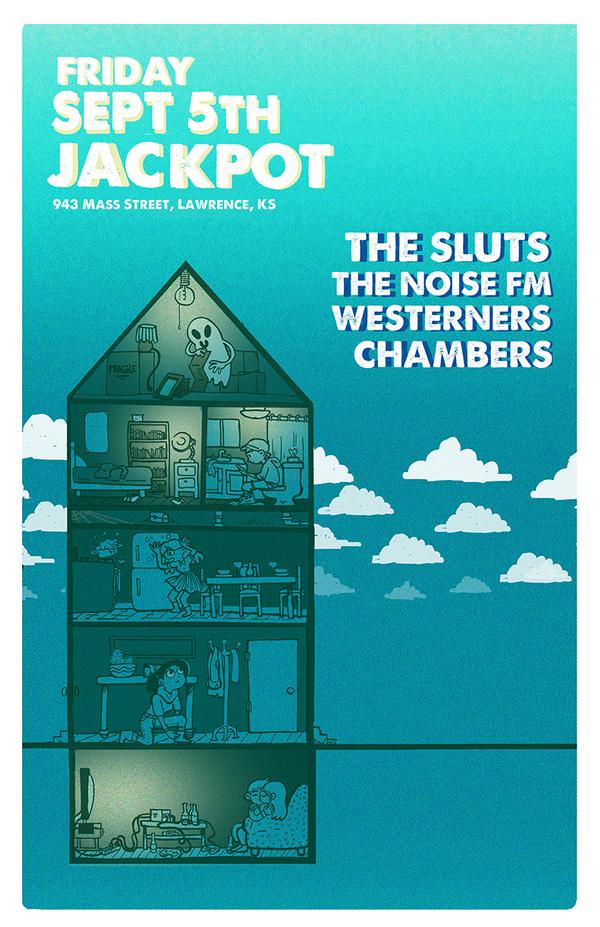 ---
The FB event page for tonight's Joyce Manor show at Jackpot is
here
. Pitchfork
says
of their new album:
"
The successes of Never Hungover Again are numerous, and the foremost is how Joyce Manor's most ambitious and diverse album is just like their other ones

—

10 songs, 19 minutes, every second as weird as it is instantly enjoyable." How long will their set be?
---
There's a real ruckus of a rock show in the basement at Frank's on Saturday. We're not sure if Riot! Riot! Riot! is a band or a command. Let us know.
---
The Replay offers a blazing weekend of rock and roll as well. Friday brings umlaut-
aficionados Muscle Worship to the Replay.
And Saturday brings Nato Coles and the Blue Diamond band. The FB event page is
here
. Based on Nato Cole's FB
page
these guys really like Pearl beer. But they may have to settle for PBR at the Replay.