Thursday = boner jokes at Replay. One of these days Chip will surely bound up to the open mic and tell a few stories about his own penis. But probably not tonight.
The scenester music pick of the weekend takes place afterward, as Major Games takes the stage at the Replay for Jerome's 40th birthday bash. One assumes they'll soon begin playing quieter and gentler shows, being old and all. But probably not tonight.
Best promo art of the week? We think so.
Here's an under-the-radar pick for you. Austin psych-pop band
The Sour Notes
are en route to Denver's big
Underground Music Showcase
this weekend and are stopping by the Jazzhaus tonight for a gig. That's right. The Jazzhaus.
---
Did you realize tomorrow is Final Friday? Probably not, since this is one of those months where the buzz is practically non-existent. But you'll find a few paintings and such if you try, plus music and tacos.
Here are some options.
We don't associate the Bottleneck with FF but here's a great poster for a cool-looking event featuring art and music.
Love Garden is serving up solid shows these days. The FF gig from Middle Twin and Ebony Tusks is going to make you bounce around. Our only concern is there's not much room to dance. Try NOT to break any albums or cats.
Wonder Fair still has their top-notch Young Woman Artists show running, but FF also brings a special evening of local ladies reading literature (Young Woman Authors), including Parcel magazine's Kate Lorenz and Liberty Hall guru Maggie Allen. There's a FB event page
here
. There's even a schedule of reading times if you're ambitious enough to scroll down into the comments section.
Or perhaps you'd prefer tacos to art (Chip: "Now you're talking."). Head to Culinaria in ELFK where they'll be dishing up
"summer veggie or pork shoulder tacos — accompanied by a fresh salsa bar — and grapefruit-tequila cocktails."
Details
here
via LJ-World
Salsas from Culinaria: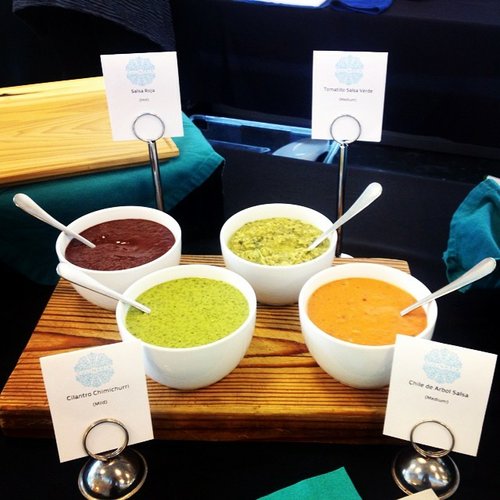 And we've mentioned this several times but don't forget Mike Anderson's attempt to set a world record for longest marathon talk show. It begins tomorrow! He probably still needs audience members. Details
here
via Facebook and sign up for audience blocks
here
via Channel 6.
---
Saturday is all about the NEW LIBRARY, obviously. LPL tweeted a partial list of events last night that sounds like classic LFK:
"Community book relay, ribbon cutting, local musicians, Library Luau, dinner, and Ghostbusters."
Oh, and don't forget: you can also actually
go into the library and check out books!!