Well, the Lawrence Public Library has reopened.
It really happened!
Our favorite description so far comes from an eight year old quoted in the
LJ-World
yesterday:
"It's not just a square and a roof, it has a lot of windows, and it's really big."
But we're a little nervous that the woman in the picture below may have put a curse on the new building during the ribbon-cutting ceremony. Let's hope it was a blessing instead.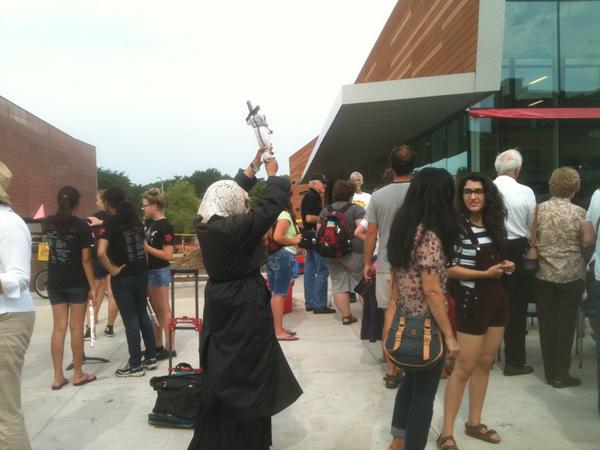 What else? Well, we finally got to hear Patricia Lockwood,
"The Smutty Metaphor Queen of Lawrence, Kansas,"
read some poems (and a very funny short essay about Robert Frost) during Wonder Fair's "Young Women Author's Event." Liberty Hall's own Maggie also performed a piece called "The Artist Formerly Known as the Prince of Denmark" with a purple skull prop. Photos via our pal Pickles:
And what didn't happen? Sadly, our friend Mike Anderson of The Not So Late Show didn't make his 66 hour goal to set the world record for longest marathon talk show. But he DID last through 36 hours of wacky television featuring just about everyone in Lawrence. The last hour or so before the attempt was called off was some VERY upsetting (yet riveting) television. Great job, Mike! We hope you're okay!
Photo via
@6NewsLawrence
.