Readers, it's heating up in LFK this week. Let's see what's happening.
KU finally decided to ruin everyone's fun and threaten the good folks at KU Boobs with a cease-and-desist order since they've been selling wristbands with KU written on them to help fund cancer research. Is it illegal simply to use the letters "KU," since there doesn't appear to be any trademarked logo or imagery on the bands? Does this seem pettier than usual behavior from The Man? We say yes. It sounds like the Twitter account will be folding soon as well, so head over to
@KUboobs
(50,000 strong and growing) and enjoy it while you can. There are some great new pics that you'll find as inspiring as you do arousing. Thanks for the memories (mammaries), KU Boobs. It was nice while it lasted.
Tuesday nights in LFK are for movies at the Replay. Actually, we don't know if people really go to this or not. But it seems like a reasonable thing to do. Tonight's Bike-In Flick is Dirty Dancing. Hopefully there will be some PBR-addled scenesters attempting to re-enact the film's fabled leap-and-catch moves in front of the screen.
If you like drinking and drawing and 80's punk rock, head over to ELFK on Thursday for an event that may have the best title of the week:
"Never Mind the Bollocks, Here's the Sex PASTELS."
It's at the new Lawrence Creates space at 512 E. 9th Street (Stan Herd's old studio). From what we can tell, it's pretty much exactly like the Drink and Draw events at Fatso's, except with possibly some extra hijinks: there's been talk of karaoke and such. Visit the FB event page
here
.
Local artist and lovable tall guy Leo Hayden invited us out to peruse the space earlier this week, and it's pretty sweet. Just imagine a band or DJ atop this elevated area at a future event while a sea of writhing scenesters congregates below.
And a special stage and cool backdrops are being assembled as we speak.
And here's a more recent photo from Leo: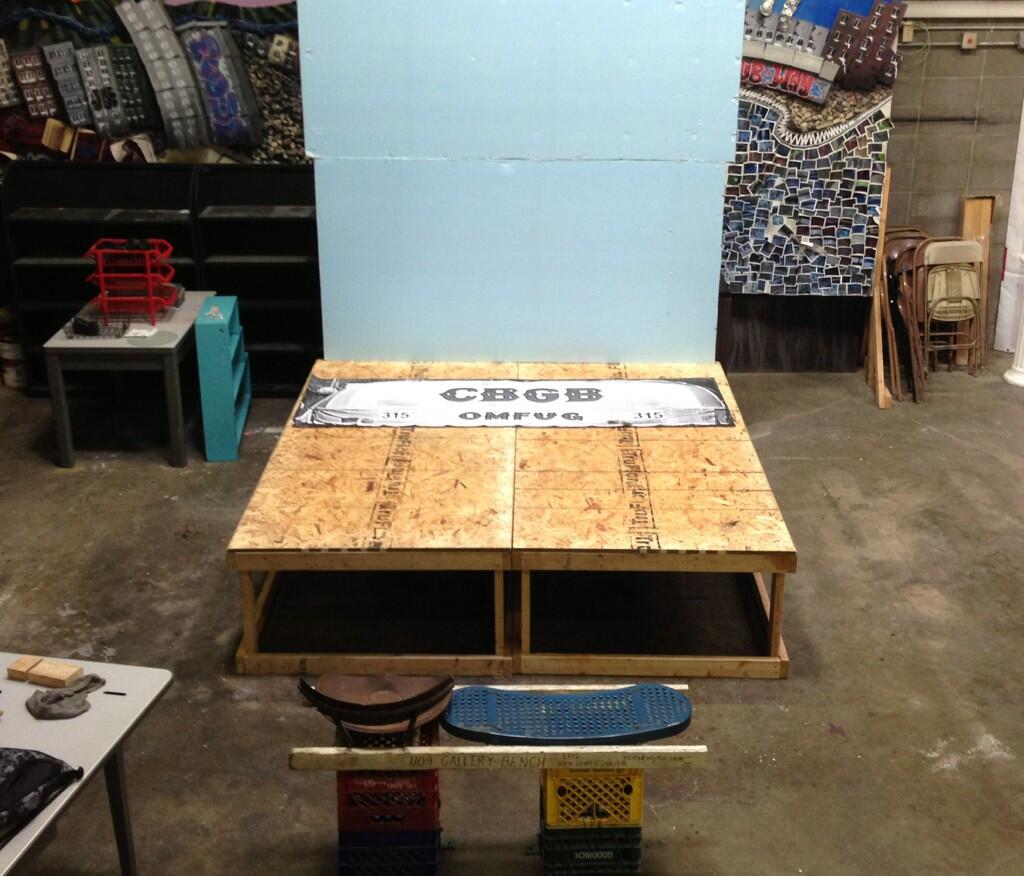 See you there (tan warehouse in back).