One of yesterday's top LFK stories was about controversial recent changes in graffiti which transformed the city's beloved
"love" garage into the "glove" garage and then into the "Risk for Adventure" garage. We asked intrepid reporter Oxfordist to hit the streets and consider some of LFK's greatest moments in graffiti and the scandals that often surround that graffiti. Here's her report! Follow her on Twitter @oxfordist
.
The latest graffiti issue plaguing Lawrence streets is the infamous "love" garage [near Memorial Stadium] that you've undoubtedly posed in front of for a photo. An additional "g" made it the "glove" garage for the past few weeks, and it was recently painted over completely to declare "Risk for Adventure." LJW is on the case and wants your leads—their
Facebook
plea had 25 shares within 6 hours. A friend told me she's ready for it to be something new when I asked her what she thought about the new paint job. Do you feel the same way? Is the love garage an iconic part of Lawrence, or tiresome?
In doing some Googling on the topic of Lawrence graffiti, I learned there's a pretty robust
Tumblr
dedicated to local graffiti pics, though its creator said in a post from July 2012 he hasn't had time to update as much since he "got arrested" (for graffiti?). At least 10 memorable local graffiti artists exist [according to the
Tumblr
] and here's a fun tidbit about Lawrence graffiti removal I bet you didn't know:
"most things done on the streetfront of mass get taken down real fast. rooftop spots, alleyways and utility boxes, newspaperboxes etc can stay for weeks or even months. abandoned/derelict buildings don't usually get removed..."
Then, who can forget the "SHOUT PEACE" fiasco at the Oread Hotel? In February 2010, the slogan colorfully showed up on the front of the hotel (
here
is an epic LJW post about the graffiti and a
letter
to the editor from a student upset when the hotel removed it ).
Resident artist Jason Barr was questioned on suspicion of creating the graffiti [story via
Pitch
] and
afterwards he capitalized on the whole thing by selling "SHOUT PEACE" t-shirts [see BARRR's
Tumblr
] —
"I told the cop in the car that I'd be making shirts to recoup the time he was wasting of mine,"
he told me). It's basically just a big meme now.
Do you have any thoughts on local graffiti? Any significant scandals from before my time? Share your stories!"
Photos:


The new "love garage" (via LJ-World)




SHOUT PEACE! (via LJ-World) :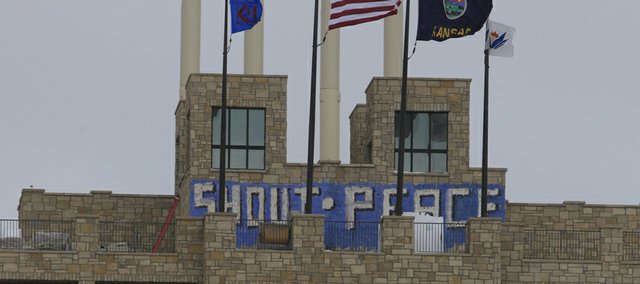 And here's Chip's pick for LFK's greatest-of-all-time graffiti (from the former Blockbuster on 23rd Street):