Each Nerd Nite is bigger than the last (and just wait till the next one, which is going to be HUGE: teaser below). But first, here's what happened at Nerd Nite 13 last night:
1) Erin Bennett and Chris Niileksela kicked things off with
"Meta Nerdery: Being Smart about Being Smart,"
a wide-ranging look at the nature of intelligence that opened with a history of intelligence testing (the "big names" such as Alfred Binet), pondered the "G factor" of general intelligence (somehow this section was completely lacking in "G spot" jokes, much to Chip's dismay), and ended up focusing on new theories of intelligence based on socio-economic/environmental factors (with help from a chart that used
South Park
's Kenny and
Silver Spoons
' Ricky Schroeder to symbolize the extremes of income disparity).
Greatest moment for nerds: another chart featuring Lazlo Hollyfeld from the 1985 nerd-classic
Real Genius
.
2) In
"Google you can drive my car: The Future of the Automobile
," Amy Mihalevich blew our minds by telling us that, possibly as soon as the next 20-40 years, many cars would be "self-driving", meaning we can get wildly plastered at the Replay and clamber into our good ol' sober automobile and order it to take us home! However, we've got a ways to go before that beautiful moment arrives since, according to the presentation, much of the technology currently in your car, such as the MyFord Touch, is so damn complicated it requires special classes to figure it out.
Best moment: Amy's adorable dance to the
Knight Rider
theme song, which was spoiled slightly by her admission that she was born in 1982 and had never actually seen
Knight Rider
. Occasional LC columnist Courtneybelle, sitting nearby, turned to us and exclaimed: "1982? That means you and I are farting dust, my friend."
Best Q & A statement: "I drink more than I drive."
3) Becky Harpstrite's
"Framing Information: The Fine Art of Big Data"
was the most
delightfully nerdy presentation of the night, an absorbing look at how data visualization is increasingly becoming a form of art. Examples: the NY-Times "Ebb and Flow" movie charts (check it out
here
) and R. Luke Dubois' work which uses eye-charts to examine the frequency of words that pop up in State of the Union addresses (these were on display at the Lawrence Arts Center recently: read about them
here
).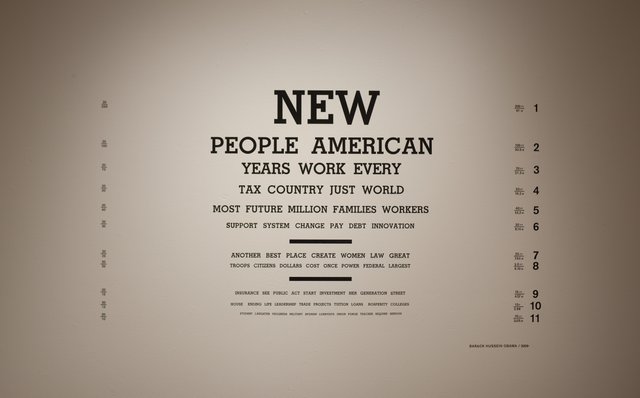 Unexpected and touching moment of the evening: co-boss Travis offered a short tribute to the power of information sharing and to the late founder of Reddit, Aaron Swartz.
The next Nerd Nite is Feb. 13 and will be co-sponsored by the Lied Center and the It Gets Better Project with the Gay Men's Chorus of LA. You will want to attend.
---
It's a big day for the LC, as we unexpectedly found one of the LC's guest columns prominently displayed in the Huffington Post in a story about the #KUBoobs phenomenon and the country wide #Boobment it has inspired. Yes, we're pleased to report that Bananasuit's "Paglian analysis" of KU Boobs is quoted prominently in a piece you can read right
here
via Huffpo (which even includes a shout-out to our blog!). For the "full Paglia," check out the original piece on the LC
here
.
The HuffPo article also provides useful links to many, many other university-related boob accounts, so Chip has spent most of the day thus far comparing the boobs of different colleges.
Chip: "I found myself really enjoying the boobs of Arizona State but oddly unmoved by the boobs of the Nittany Lions."
Great job, HuffPo and B-suit and everyone involved in the #Boobment, for helping to insure that there are even more titties to look at on the interweb!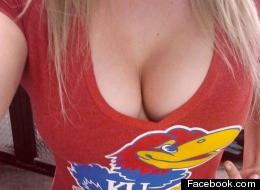 ---
Our friends at EMU Theatre have a new production kicking off this weekend at the Lawrence Arts Center.
Let My Mind Flash With Blades examines the relationship between Freud and the poet Hilda Doolittle (HD). Visit the FB event page here for dates and times and a full summary. Here's an excerpt:
"Doolittle befriended Freud in the 1930s and became his patient when she was suffering severely from writer's block. Their multifaceted relationship incorporated their shared passion for art and culture, and their fondness for each other, as well as their fear of coming war."
Richard: "This is exactly the kind of challenging fare that LFK's struggling theatre scene needs to embrace."
Chip: "I'm afraid I'll have to pass, since I've already got tickets to the Theatre Lawrence production of Fox in the Fairway, which I suspect is like Caddyshack for old people. I'm hoping that the titular fox is a delightful play on words that means not only a sexy lady but also a little scamp of an actual fox that's wreaking havoc on the greens."