Today we're taking a rare break from all the buzzy bands and high-falutin' art events we normally showcase and instead highlighting a few things that are entertaining Chip these days. Read on if you dare.
1) Here Comes Honey Boo Boo on TLC
Chip: "I don't think I've ever seen a show with a fart joke in the OPENING CREDITS!
Forbes'
review phrases it well:
"Each episode opens with a tremendous fart by June, Honey's 309 pound momma."
And things get even funnier, believe it or not. Sure, there's a major trend of redneck reality television right now, such as the overrated
Duck Dynasty
and the underrated (and cancelled?)
American Pickers
, about that family from Richard's old hometown that stuffs pets. But I think
Here Comes Honey Boo Boo
is the most warm and tender. However, it's a little too much like a foreign film, since much of the family's dialogue is subtitled, because they don't talk good. There's also a little baby pig. It farts a lot too. Catch new episodes on Wednesdays."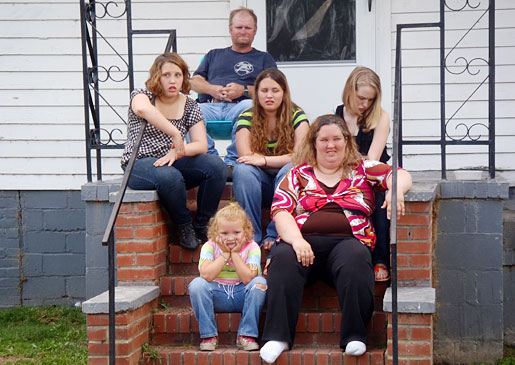 2) "Van Dammage" at the Alamo KC
As a lead-up to the premiere of
The Expendables 2
tomorrow night, the Alamo is showing three Van Damme films. Altogether, this equals 438 bone-crunching minutes of "Van Dammage!" The line-up has now been officially announced:
Bloodsport
,
Hard Target
, and
Universal Soldier
. Details
here
.
The Alamo has put together a special menu for the event which includes
"ANDREW SCOTT'S EAR NECKLACE, freshly fried pork rinds fit to be strung together and worn, or dipped in a spicy soldier dipping sauce."
Chip: "This may well be the greatest 438 minutes of my life so far."
3) The Noise FM and Quiet Corral at the Eldridge Hotel rooftop bar on Friday August 24th
Chip: "The Noise Boys and I go way back, all the way to Fort Scott, and I'll be terribly disappointed if they don't trash a few rooms, rock star-style, after their show. I suspect they'll write 'SHOUT PEACE' all over the walls."
Check out the FB event page
here
and we'll likely be showcasing the event further next week.
Here's a classic Oread/SHOUT PEACE photo via the
LJ-World
. It still gets our vote for LFK's greatest-ever act of vandalism!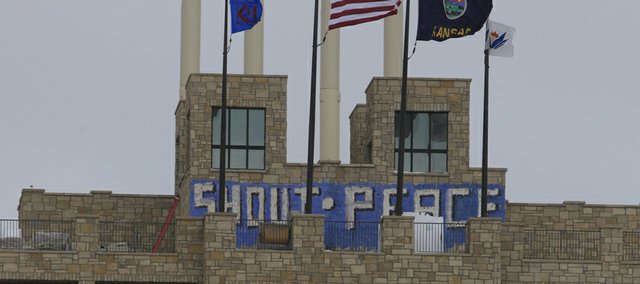 4) Olivia Munn as Sloan Sabbith on The Newsroom
Chip: "Let's get this straight: I hate
The Newsroom
. Real-life is MUCH closer to Honey Boo Boo territory than it is to Sorkin-land. But I never knew long monologues about economics could be so sexy before meeting Olivia Munn's Sloan Sabbith. I DVR
The Newsroom
every week. But I only watch the parts with Olivia Munn, which means I can skip right through at least 40 minutes of progressive babble about broadcast integrity. Actually, to be honest, I watch the Alison Pill parts too. But never the Emily Mortimer parts. Her character is so annoying I immediately lose my boner."
Munn and Pill and Mortimer:
5) Read Across Lawrence and Winter's Bone
Chip: "I'm really excited that the Read Across Lawrence program is attempting to unite the community this year through a really brutal novel about meth. I'm also excited that PBR Book Club is making
Winter's Bone
their September selection, as a follow-up to their current selection of
The Sugar Frosted Nutsack
, which (as you can tell from the title) is fucking hilarious. With selections like these, I may eventually forgive them for this summer's 1000 page, post-modern Mexican 'masterpiece' featuring 200+ pages of nothing but rape."
We'll be offering major coverage of all the LFK
Winter's Bone
events coming soon, since the festivities are kicking off as early as the August edition of Final Fridays. And head over to the Library
site
to start planning your itinerary.
Here's the great John Hawkes as Uncle Teardrop from the film version. We're hoping he'll be on hand for some of September's events, since he's prone to hanging around LFK anyway.