It's been a long month of William Burroughs celebratory activities in LFK and the most honored (and naughtiest) guest has yet to arrive. But on Thursday John Waters is slated to unleash his "This Filthy World" tour on the upstanding arts patrons of the LAC. We're hoping that those who are only familiar with the "Pope of Trash" (as Burroughs designated him) through films such as
Hairspray
will take the time to watch
Pink Flamingos, Desperate Living,
and
Female Trouble
prior to Thursday. The event is sold out BUT it looks like the LAC is now charging $10 to watch via closed-circuit feed from the Black Box downstairs: visit their site
here
.
The LJ-World interviewed Waters (read it
here
) but sadly we did not, although we do think he would approve of Chip's boner jokes (and Chip's boners, for that matter).
Here's a shot of Waters' hitchhiking through Kansas and a film still of Divine licking a staircase in
Desperate Living
: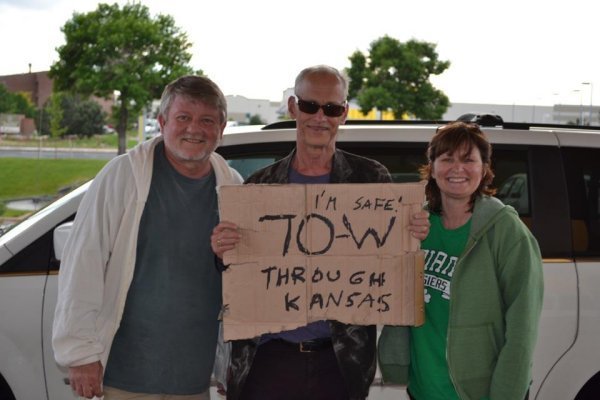 ---
Sure, we love to give Free State the business about their (weak) new French fries but, like most locals, we can't imagine spring weather in LFK without beers on Free State patio. The beloved institution turns 25 this weekend with a bunch of events that kick off on Thursday (quotes and info snagged from their newsletter, which you should sign up for via the Free State site
here
).
"Beginning on February 20th we'll offer the greatest selection of beers we've ever had on tap. It will be a limited time selection of favorites, new beers and special aged beers, with 12­-15 likely on tap at once. As individual kegs are drained, others will take their place, so come early and visit often for the full selection."
Oh baby. But let's hope that the funky bologna-tasting beer doesn't reappear!
Free State is also sponsoring the Chuck Mead show at the Bottleneck on Saturday and giving away free Stout Chocolate birthday cake on Sunday evening starting at 5:25.
So stop by and sample all 25 beers. As the photo below says, "We can drink it!"