Readers, it was an eventful, oddly spring-like weekend in LFK, and here are some of the sights we witnessed.
Final Fridays was bustling and we started our evening at Wonder Fair, where this cat played a ragtime score for some stop-motion animation followed by a delightful little ragtime concert and history lesson: "This song was the "Call Me Maybe" of 1899." Perhaps it should become a future Nerd Nite presentation?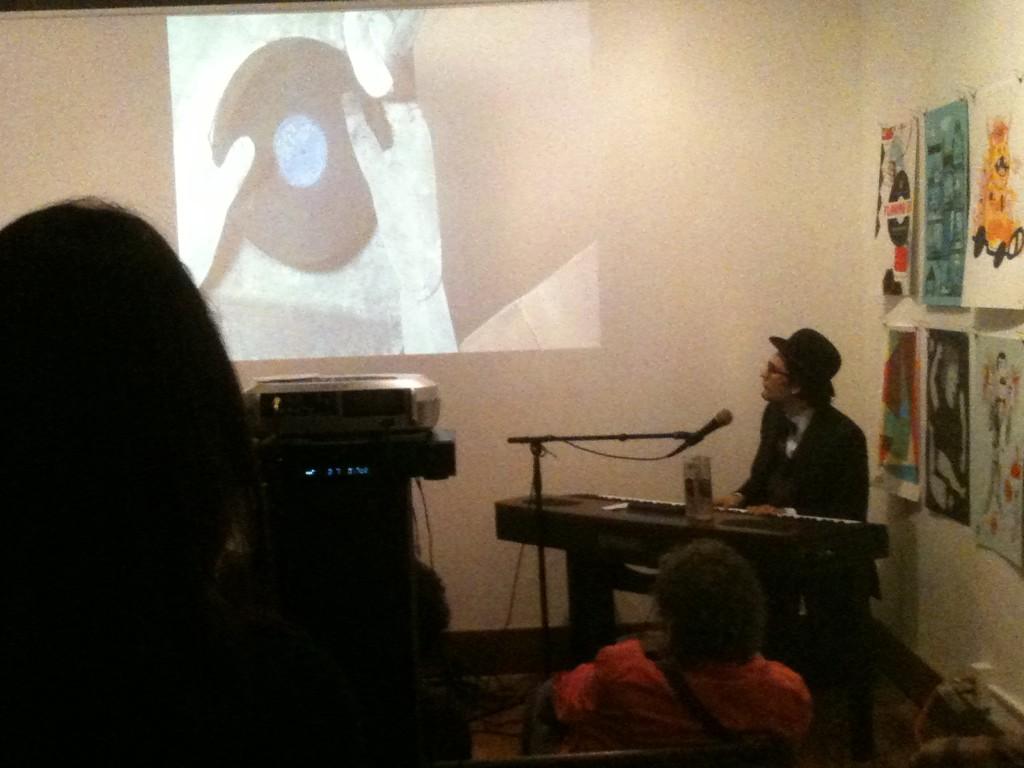 Wonder Fair has a bit of a "speakeasy" vibe even on normal occasions (all tucked away upstairs), but this night it was transformed into an actual speakeasy, with $4 Mary Pickford cocktails and "fancy beer." Chip drank so many that he thought he WAS Mary Pickford.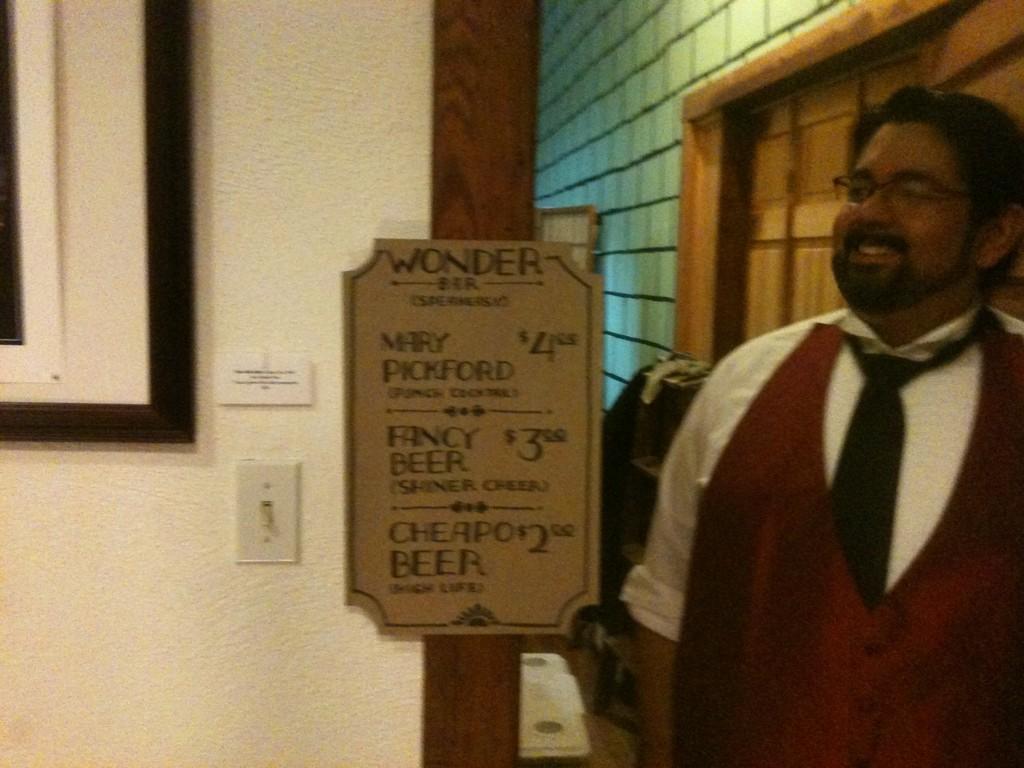 Later we found ourselves traversing a mysterious hallway between Mirth and the Bottleneck to find ourselves in something called the Blue Flame Gallery. Naturally, Tyler Gregory was there. Here's a little tyke who was absolutely mesmerized by the sweet sounds of T-Gregs: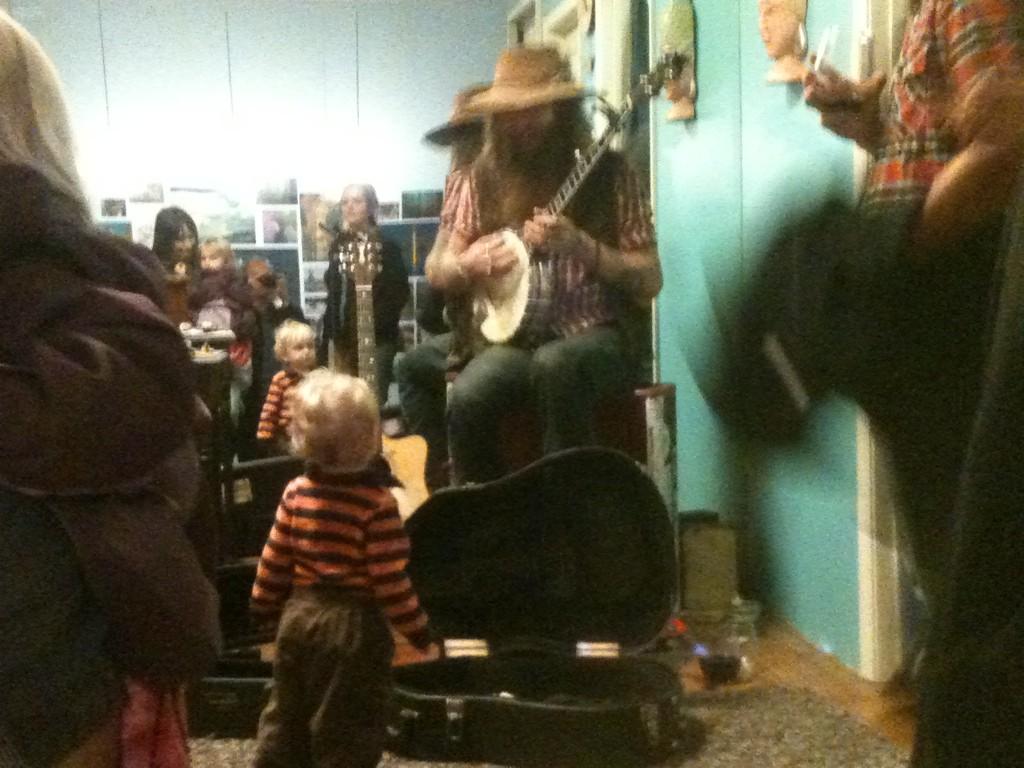 Next stop: the Percolator, where a dude (below) was making some strange noises for a crowd of librarians and a woman was outside burning her art in some kind of purification ceremony.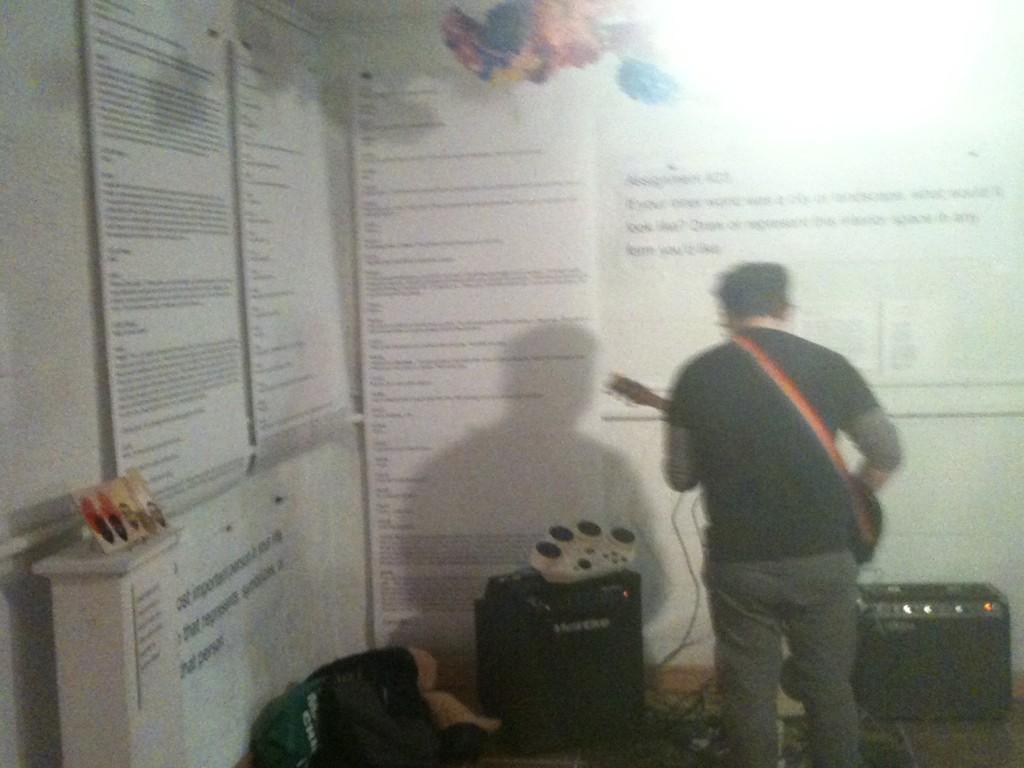 The best art, and hippest crowd, was in the Warehouse District for Andrew Jilka's "God Willing" opening at Invisible Hand. Look at at these Bulls!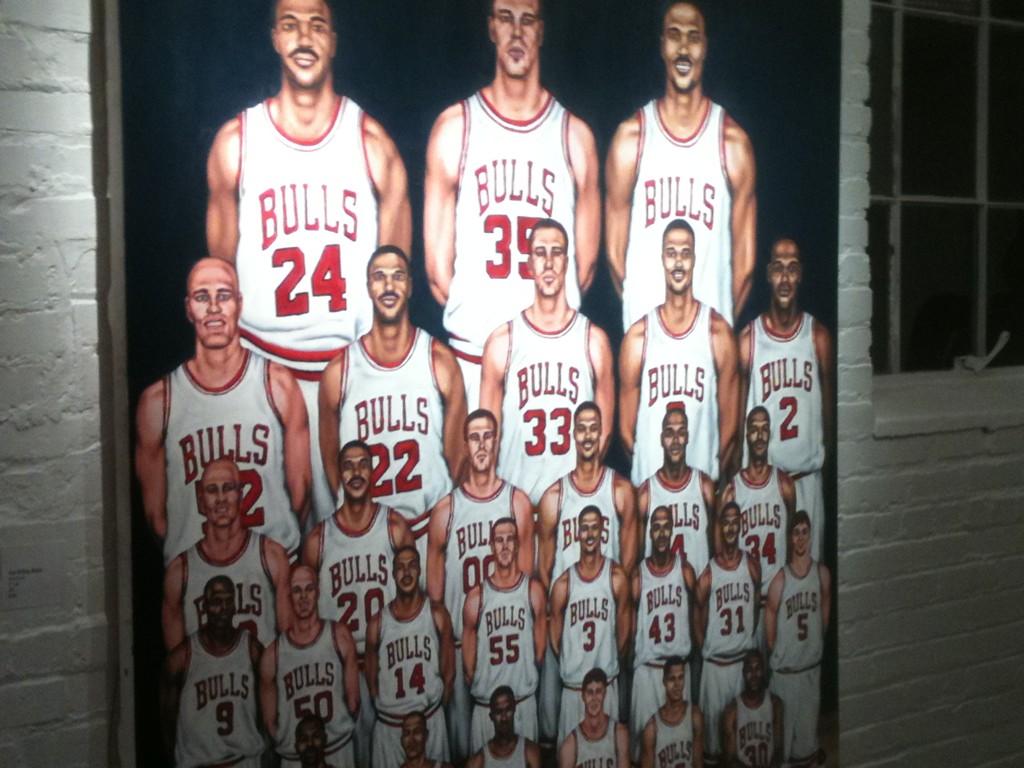 But the treasure of the new Warehouse district is surely Warhol's Dolly Parton. How in hell did East LFK score this thing? (just kidding, folks...it's actually in Crystal Bridges Museum in Bentonville, four hours south of you and worth your drive!).
On Saturday morning, the "horse parade" drew a huge crowd. Look at the Wild Women of the Frontier trotting past the local hippie store. Anachronistic, eh?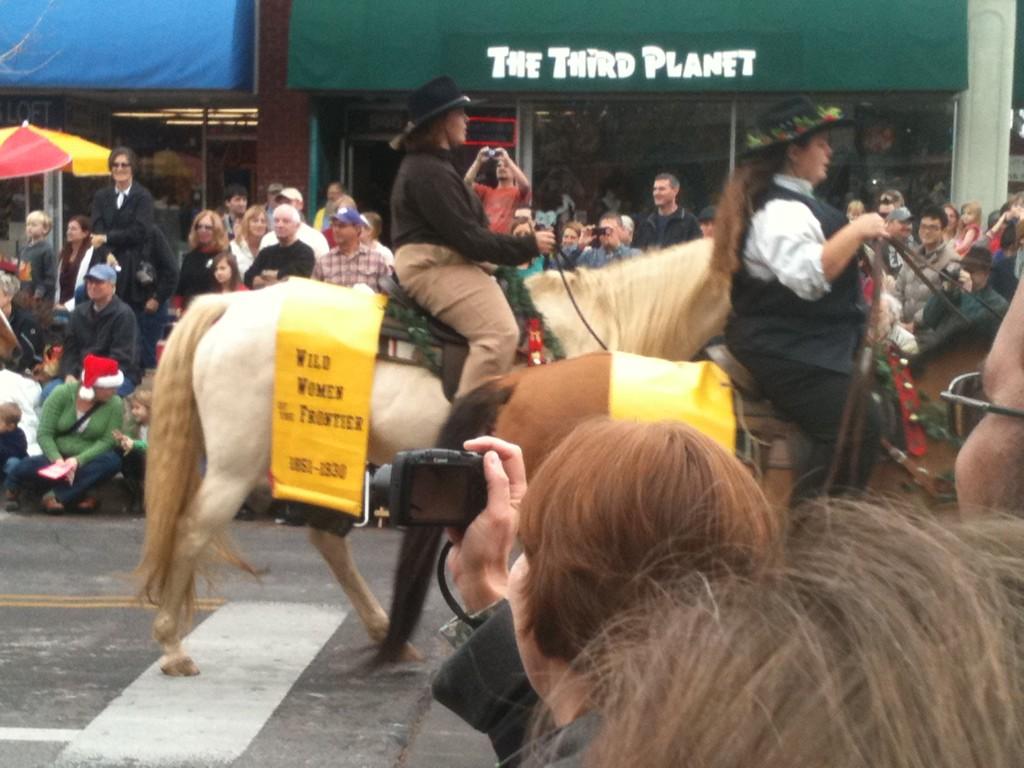 Dennis was the in the parade too, of course, but he opted for his bike instead of a horse.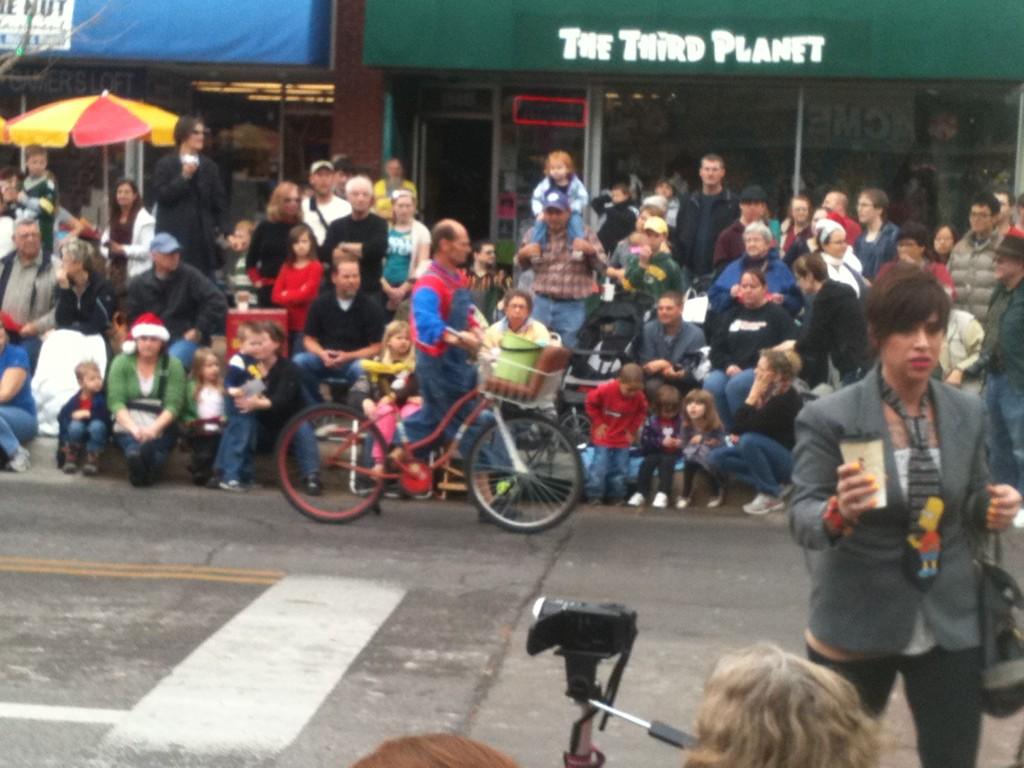 On Saturday afternoon, 2500 silly people drinking Sam Adams and cider took to the streets of LFK for the Ugly Sweater Run. We don't approve of running, but if we ever enter a race, this will probably be the one for us.
The KU volleyball team made it to the second round of the NCAA tournament in Allen Fieldhouse and we joined the bandwagon fans to witness their "Shocking" defeat by the Wichita Shockers (if you catch our wordplay). Was there some Gangnam-style dancing in the audience? You better bet there was. But the team was in no mood to dance on this evening.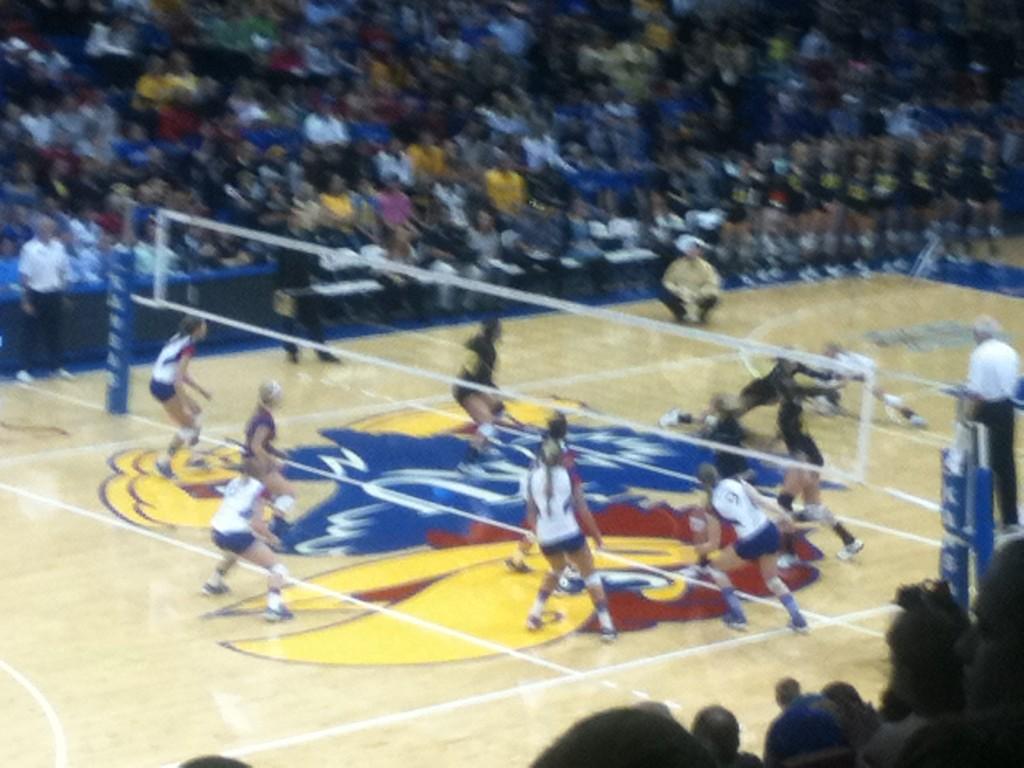 But we were most impressed not by the newgrass/jamgrass but by the folkie-stylings of opener Chicago Farmer, who has a knack for very funny, self-deprecating, fast-talking stage banter (similar to Todd Snider, if you've witnessed the great Snider in his element) along with a quick wit ("Nothing like a song about a guy getting stabbed to make you wanna hula-hoop, right?") and some pretty damn good songs. Check him out if he comes back to town.