Now that our favorite nerds have gone "mainstream" with a splashy article in the Sunday LJ-World (read it
here
), will we abandon them in favor of something a little lesser known? Nah, we have too much fun writing about their nerdery. And can't we agree that the article's photo of "co-bosses" Travis and Becky is 100% adorable?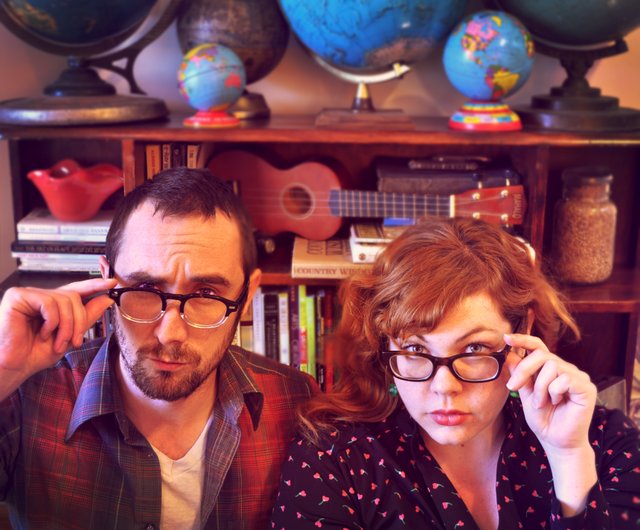 This month's Nerd Nite ("Alumnite") is a one-year anniversary celebration and it's being marked with three returning favorite speakers chosen by nerdy voters. Here are their three (all-new) presentations:
1) "
The Sound of Thunder Over Headphones: Ray Bradbury and the Radio
" by Justin Runge
Given Bradbury's recent passing, this one is timely.
Chip: "I'm aware of his work." (Free PBR for the first to guess Chip's reference).
2) "
Spit-Shining the Rust Belt: Transforming a Region from Smokestacks to Tech Startups"
by Steph Kozak
3)
"The origins of life: A quick biochemical history
" by Bryan Smith
Steph's and Brian's presentations sound inspiring and complicated, respectively, and we tend to be leery of inspiring and/or complicated things, so they've got their work cut out for them!
---
It's Monday, it's Finals Week for KU students, and the Mayan apocalypse is fucking
looming
, so what should you do this evening. Here are three options.
Math the Band is bringing their "electro-spazz" to the Bottleneck. We interviewed them last week (read it
here
). It's sponsored by Wonder Fair. Agent X-12 is also on the bill. Here's his bio:
"AGENT X-12 is a cyborg lost 20 years in the future on a random world. The agent's origin and eye color are unknown. What we do know about Agent X-12 is that he is 5'11" and a fully analog circuit-bending cassette sorcerer."
We found a rare photo of Agent X-12 in action via his FB page.
Yeah, it's going to be weird. Visit the FB event page here for lots of links on the bands.
---
At the Jackpot, Til Willis takes the stage along with a KC band called Appropriate Grammar (Chip: "I bet they'd freak if we spelled their name wrong!).
The flyer features a kid smoking while sitting near a chicken.
And Chip is finding himself strangely aroused by Appropriate Grammar's Lies and Stories album cover:
We also like the description of their sound from their FB
page
.
"Their songs sway between The Black Keys' howling guitars and country roots, into Clash territory with funky basslines and fast drumming before spiraling into a collage of Explosions In The Sky's sonic depth and The Pixies' pop sensibilities with just a hint of Nick Drake's eerie and well-written vocals."
---
And across the river at Frank's, Monday Movie Night continues with...
Yep.
Somehow we suspect the night will culminate in a van-surfing contest along Locust Street. Be careful out there, scenesters!