Readers, it's Marc Maron Day in LFK! But, let's face it, most of you didn't score tickets. Anyway, welcome to Lawrence Fucking Kansas, Maron!
Today we offer up four more blurbs sent to us from bands playing the Field Day Fest. Go check 'em out!
But first, a Nerd Nite recap that you can read or skip.
The nerds assembled once more, late in the month and on a Monday, in conjunction with the Free State Festival. Here's what happened.
Peter Lyrene opened with brief remarks about Roger Ebert's famous assertions that any film starring either Harry Dean Stanton or M. Emmitt Walsh can't be all bad.
Chance Dibben followed with a discussion of film codes and censorship issues ranging from the Hays Code to Kirby Dick's blistering 2006 expose of the MPAA:
This Film is Not Yet Rated.
KJHK's own Vince Meserko was up next with a discussion of "authentic" vs "inauthentic" soul music, and offered up our favorite line of the night:
"This is 25 pages of my dissertation, condensed to two bullet points."
There were several portions of this presentation where Vince played soul music and the entire roomful of white nerds nodded along. It was quite a sight. He even made mix CD's (though he rudely skipped over us in the front row!!). But we scored one anyway.
Laura Kirk, indie film actress and co-founder of Women of Lawrence Film (we love its acronym: WOLF) closed the evening with a consideration of the state of film. Verdict: not good. BUT it's easier than ever to make films. Check out Laura in
The Sublime and Beautiful
, the centerpiece film of the Free State Fest, on Saturday at 7:00 at LAC.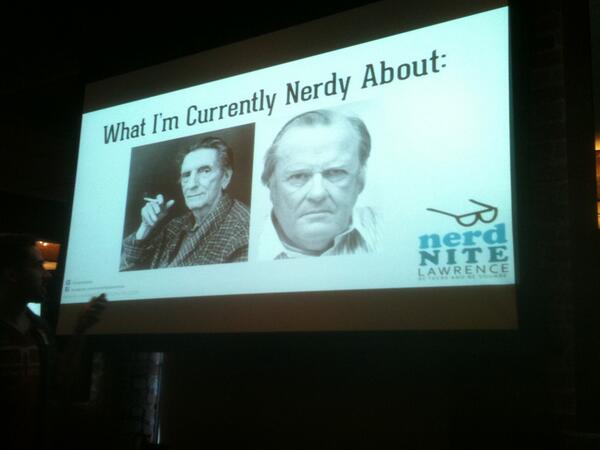 ---
Now the blurbs for Lawrence Field Day Fest:
Josh Berwanger Band 11:00 Sat. June 28th at Bottleneck
"What genre of music does the Josh Berwanger Band play? Rock, Psychobilly, Hip Hop?

Do they sound like legendary rock bands like

Creed, Sugar Ray, or C.T.D.?

Wishing to achieve the sounds of such bands and genres The Josh Berwanger Band brings their own style of rock n' roll music all the way from Nilbog, Kansas. Their music has been described* as Buddy Holly meets Guns n' Roses. It's no Spin Doctors, but c'mon now...who is?"
[*Description from LFK music guru Jon Harrison]
Vigil and Thieves,
6:30 June 26 at Wonder Fair

We are an adventuring trio who like to beat on drums, strum melodies onto strings, slam on keyboards and belt out lines of carefully placed words. We attempt to do so in an entertaining manner, which with any luck might make listeners wanna move their feet and sway their shoulders. We consider ourselves to be several different genres, a little bit indie, a little punk, a little bit emo, but 100% rock-n-roll. We are opening at Wonder Fair Thursday and would love to see some curious new faces.
Strangely and sincerely,
Vigil and Thieves
Field Day Jitters, 6:50 Thurs. Jun 26 at Love Garden
Come let the Field Day Jitters get you in the mood for the local music onslaught that is Field Day Fest! The Field Day Jitters are a trio from Manhattan Kansas that makes music nostalgic for the likes of Grandaddy and My Bloody Valentine. Let them show you how excited they are to not only play at the famous Love Garden, but also open for local legend/hero Danny Pound! This show is free, people! Hope to see you there.
"The Philistines are a six-piece KC rock collective led by the ferocious vocals and unbridled stage presence of Kimberely Queen and the provocative, moody, psychedelic songwriting of Cody Wyoming. Sending out of a barrage of spaced-out, razor-sharp guitars, a pummeling rhythmic onslaught, and melodic keyboard tapestries, the band takes vintage ideas and forms them into modern sonic movements. They are bent on bringing their vision of the future and their barbaric brand of psych pop to the rest of the world.