Local pie-lovers have long-lamented the difficulty of finding a simple slice of pie in this town, and especially downtown (at least since the glory days of Paradise Cafe). So a few of us quickly called a "Pie Summit" last weekend when 715 tweeted an enticing pic of a banana-toffee pie with Kahlua whipped cream. Readers, it was delicious. And we were pleased to chat with 715's "pie girl" (who happens to be Mr. Arthur Dodge's wife) and learn that 715 plans a pie special each weekend. She even took requests from us.
The downside: a slice is $7 bucks. Well, this IS 715 after all. This ain't the "corporate pie" of Perkins. So start yourself a "pie fund" and check it out.
Photo via
@715Restaurant
.
LFK's craft-beer craze continues and now you can supplement your Merchant's sampling with a new joint called Ted's Taphouse, which is operating out of Oh Boy chicken down at 10th and Mass and still serving the Oh Boy menu in case you need a giant piece of gluten-free bird to complement your Avery Brewing Maharaja. It's a nice little beer menu, and seems to change frequently, so check them out and give them a "like" on FB
here
.
They don't have a real sign yet.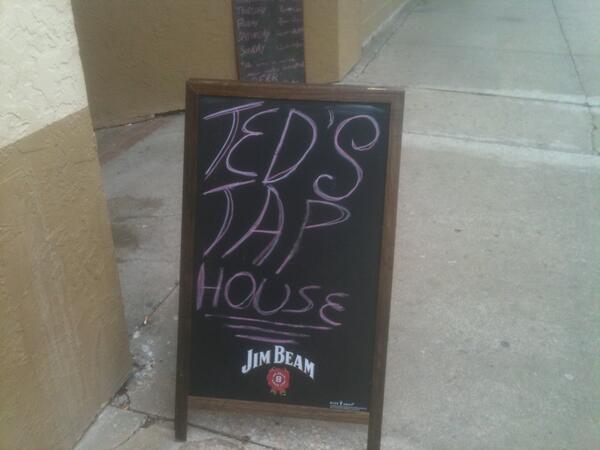 And we need three things to like, so we're going with Gaslight Gardens' Spelling Bee for the third. This event has been going on for awhile now (we think) but we've yet to make it out. Sounds intriguing, though. Unfortunately, we are terribul spellars after a few PBRs. The next edition of the Bee is this Saturday, and according to the FB event
page
, no one is going and no one has been invited. So perhaps you'll be the only one there, just sitting quietly on the patio, trying to spell "loneliness."
Anyway, we're definitely looking forward to some spring patio time at the Gaslight. Give them a "like" over
here.
Doesn't it look like a delightful place to spend a spring evening in LFK (if it ever quits snowing)?